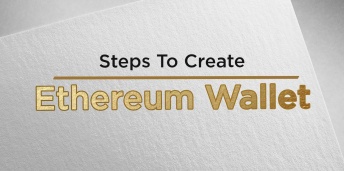 Steps To Create Ethereum Wallet
Reading Time: 9 minutes
Ethereum crypto has always been the top altcoin by market cap, but its feats in recent months have put it at the top of the investor watchlist. From peaking at $4,300 in mid-April to driving hype for the non-fungible tokens (NFTs) taking the art world by storm, Ethereum has evolved from being Bitcoin's sidekick to a coveted blockchain of its own.
Amid interest over Ethereum's wide range of use cases, Ether (ETH), the native token powering the network, has grown in value and popularity. As a new investor, you may be on the lookout for ways to securely store ETH and navigate around the world of private keys and wallet addresses. Here's everything you need to know about Ethereum wallets and how to create one.
What is an Ethereum Crypto Wallet?
An Ethereum wallet is essentially a storage solution that can hold your ETH—whether for active trading or long-term HODLing. Ethereum wallets are stored in software on your computer or mobile device. A wallet can be installed as an application for desktop and then synced to a smartphone through the internet—similar to how you might create a Gmail account and sync it between your phone and laptop. Wallets such as MyEtherWallet also use browsers like Chrome, Firefox, and Safari to create a wallet.
The Ethereum network is decentralised, which means that you have full control over your funds—unlike banks and other financial institutions. Wallets protect your funds by encrypting them with a private key—a long string of numbers and letters that only belongs to you.
Apart from private keys, wallets also generate public keys. Your public key is how people can send you coins, while the private key allows you to access your wallet on other devices without typing in passwords each time—you only need your password for one device that stores both sets of information.
What Are Cold And Hot Ethereum Wallets?
There are various kinds of Ethereum wallets available on the market, with the most important distinguishing factor being hot and cold. Hot wallets are connected to the internet, which makes them more vulnerable to hacking. Meanwhile, cold wallets are often in the form of hardware. They never leave your device and only connect when you want to make a transaction or store information on your computer.
While both can store ETH, hot wallets are often used to keep coins for short-term trading, while cold wallets are used for long-term storage. It's advantageous to have both kinds, which can be useful for plenty of use cases.
How to Create an Ethereum Wallet?
Most Ethereum wallets can be downloaded from the web and are free to use. You may need to make a one-time payment for an Ethereum hardware wallet, but software support is often free for life. Unlike traditional payment gateways, such as Paypal, you don't need to create an "account" or provide personal information when creating a cryptocurrency wallet as they're completely anonymous and only distinguishable through unique wallet addresses and public and private keys.
Step 1: Choose a Type of Wallet
First, decide whether you want to create a hot or cold wallet. Most new investors who only commit a small amount of money to cryptocurrency opt for a hot wallet, as it's easy to use and free to download. However, if you have a substantial sum invested, it's recommended to go the extra mile and purchase a cold wallet where your funds can be safe from the online realm. Regardless of which you choose, going for a general crypto wallet like Coinbase or Exodus will allow you to store thousands of other coins apart from ETH.
Step 2: Download The Wallet
It's important to download the wallet from a legitimate source, like phishing sites that mimic real web pages run rampant on the internet. There are plenty of scams out there that want to steal your Ethereum, so it's important to take the time and make sure you're downloading from a safe site.
Step 3: Create a Wallet
Upon opening the software for the first time, it will allow you to create a wallet. Most allow you to create multiple crypto wallets—you can either make one for each coin you own or keep everything in a single wallet address. Once you click "create," you will be asked to write down a 12-24 recovery seed that acts as your password. It's highly recommended that you write the seed down offline and store it away from prying eyes. Leaving your recovery information online will make it susceptible to hacks, and you can risk losing all funds.
Step 4: Transfer ETH Into The Wallet
After agreeing to the terms and conditions and writing down your recovery seed, your cryptocurrency wallet has officially been created, and it's ready to send and receive coins! There are no secondary verifications necessary due to the anonymity of the platforms, and you can immediately route funds from an exchange to the newly-created wallet.
Best Ethereum Wallets
There are hundreds of ETH wallets online, but here are some of the most widely used among investors.
Trezor
The Trezor hardware wallet is one of the most secure devices on the market and is ideal if you're looking for a safe Ethereum wallet for storing large numbers of ETH. It's a physical device, and if you lose your Trezor, all funds can still be recovered through the recovery seed. The downside to this device is that it costs $100 upfront plus another small gas fee each time coins are transferred in and out of the wallet—but note that the fee is present in most wallets.
Exodus
A relatively new wallet on the market, Exodus crypto wallet is quickly growing in popularity thanks to its sleek design and user-friendly features. It caters particularly well for active traders who make plenty of transactions each day, as you can visualize and track your transaction progress with every click.
Coinbase Wallet
The Coinbase wallet is one of the most trusted and popular cryptocurrency wallets online as it's easy to use and offers a variety of options for storage. You can send, receive, or buy Ethereum from within the wallet app linked with your bank account, so you don't need to input card details every time you purchase coins.
Atomic Wallet
If you're looking for a secure wallet that enables safe storage and is compatible with many different coins, Atomic Wallet might be the best choice. The interface offers a vast array of options to choose from to store ETH and other cryptocurrencies.
What Can I Do With My Ethereum Wallet?
An Ethereum wallet allows you to send and receive ETH. If you choose a secure wallet that supports other coins, you can do the same with a wider portfolio of cryptocurrencies, making it convenient to manage your funds. Some wallets also come with a built-in exchange, allowing you to buy and sell from within the ecosystem—often lowering the transfer fees between the two platforms. Finally, some wallets also allow you to convert your ETH to other cryptocurrencies, making it easy to experiment with various crypto investments without going through the cost and hassle of converting to fiat.
Leave a Reply