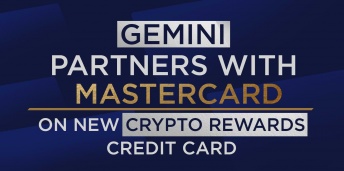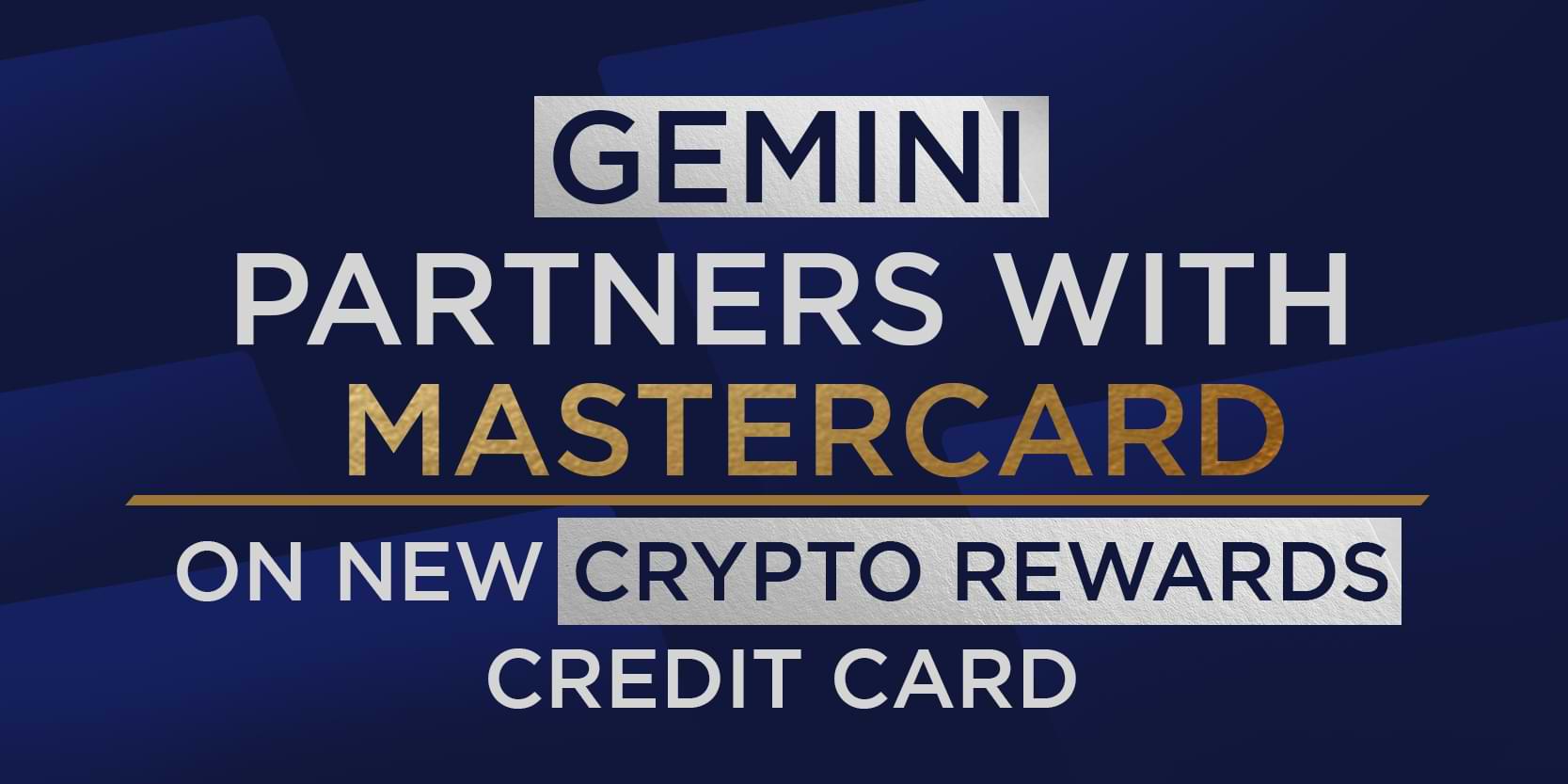 Gemini Partners With Mastercard on New Crypto Rewards Credit Card
Reading Time: 8 minutes
For the past few months, cryptocurrency has become a household term, now known and owned by approximately 2.8% of the population, or over 200 million people and 18,000 merchants worldwide. The crypto-curious cohort is likely even bigger, including individuals who are interested but haven't delved into the digital finance sphere for reasons including convenience and the fear of risky speculation. Third-party payment portals have been surfing the cryptocurrency wave to bridge the gap concerning mass adoption, primarily by opening up their services for easier coin and token-based transactions. 
First was Visa's partnership with Crypto.com, a digital cryptocurrency bank that allows users to buy, sell, and earn crypto passively through long-term holding. Seven reward cards are now available for US, UK, Europe, Singapore, and Canada residents—a big leap toward streamlining crypto transactions using stablecoins. Payment giant PayPal came next, now offering exchange and wallet services for its over-100 million users, starting with the US. Recently, Venmo has also started allowing users to buy and hold cryptocurrency, making it easier than ever for people to open up to the world of coins. 
And just a month ago, crypto platform Gemini has announced a groundbreaking partnership with Mastercard: a rewards credit card available in all 50 states in the US. 
What is Gemini? 
Gemini is a cryptocurrency trading and investment platform with an easy-to-use and clean UI available on both desktops and smartphones. Like Coinbase, one of Gemini's primary selling points is that most of its coin reserve is stored in a secure offline wallet, with only a small pool of fully insured online funds, making it safe against hackers and attacks. Apart from buying and selling services, the platform also offers users an opportunity to earn through their cryptocurrency holdings. Gemini Earn works like an HYSA—leave your funds in, and it'll gain up to a 7.4% annual percentage yield if you meet specific conditions. 

The New Rewards Card
Gemini and Mastercard is a match made in heaven—its rewards-earning credit card is one of the first to reach the mainstream market. The elusive card is expected to release by the summer of 2021, but it's already garnered a 140,000 people-long waitlist as early as mid-April. Unlike the Visa card, which is essentially a debit card where you can store and spend crypto, the Gemini x Mastercard collaboration will bring credit ownership into the cryptocurrency sphere. Between these two big names, WebBank is also involved in issuing the credit nuances of the Mastercard and establishing its digital lending platform. 
It's important to know that while the Gemini credit card is advertised as a crypto rewards card, transactions are still done with fiat currency, allowing holders access to any merchant that accepts Mastercard. Only the rewards are rolled out in cryptocurrency, providing an opportunity for anyone to earn coins through traditional spending—an important factor in driving usage, value, and mass adoption. 
Benefits of The New Rewards Card 
The Gemini and Mastercard collaboration is game-changing, as never before has cryptocurrency-based lending been introduced in the form of a credit card while partnered up with large financial players. It offers the benefits of a traditional sleek metal card—and much more. 
Real-Time Reward Rollout 
Most traditional credit cards send you rewards at the end of every payment cycle, but the Gemini x Mastercard collaboration introduces a real-time reward rollout system so that you can get your crypto back instantly. In a fast-moving coin market, waiting can be detrimental to your net worth, so this feature has plenty of hidden benefits from an investment standpoint! 
Get Up to 3% in Crypto Rewards For Any Purchase 
The Gemini x Mastercard credit card can be used with any merchant that accepts Mastercard. All purchases are done with fiat currency, so you can go about your regular spending habits—whether shopping, dining, or travelling—without adjusting to new economic nuances. However, all rewards are rolled out in your cryptocurrency of choice, which includes a choice of Bitcoin currency and 30 other popular altcoins! Gemini offers 3% back in crypto for dining, 2% back for groceries, and 1% back for general spending. 
No Annual Fees or Expensive Withdrawals—Forever 
The Gemini rewards credit card boasts a promise of no annual fees, allowing you to enjoy credit card ownership without the big price tag that can eat up your yearly reward earnings. Moreover, you can dodge the expensive gas prices that often come hand-in-hand with cryptocurrency withdrawals by cashing out through a Gemini account. The streamlined integration with the Gemini platform will also allow quick access to Gemini Earn, where you can earn interest through a crypto stake. 
Near-Instant Access, Plus Digital Card Management
New cardholders can almost instantly use credit after connecting with the Gemini mobile app. The app will allow you to track spending, manage credit, and access the rewards, perks, and more!
Mastercard® Benefits 
Gemini x Mastercard holders will get access to all World Mastercard® benefits, from security issues such as theft ID protection and zero liability and price protection to travel and merchant promotions exclusive to Mastercard holders. With this reward credit card, you won't miss out on tangible benefits while still participating in the coveted crypto-economy. 
Security-Forward Design
A robust mobile app integration has removed all personal information from the metal credit card, revealing the cardholder's name. Any other crucial data, such as the card number and security code, are accessible through your Gemini account, which is protected by two-factor authentication. 
Gemini CEO: Advantages of Gemini Card
Gemini co-founder and acting CEO Tyler Winklevoss was one of the brains behind the Gemini and Mastercard collaboration. He attributed the quick rollout of this rewards card to their recent acquisition of Blockrize, a fintech startup with the same mission of producing a credit card with crypto rewards. Apart from Blockrize, Gemini has also been involved in acquiring other key players in the crypto market, including Nifty Gateway, which is known for being legendary NFT artist Beeple's marketplace of choice. 
Winklevoss believes that the Gemini Mastercard will be an easy point-of-entry for crypto-curious consumers while also offering a simple way of earning cryptocurrency rewards without disrupting their usual spending behaviour. Part of their mission is bringing crypto to the mainstream market, hence why Mastercard was their partner institution of choice. 
On Mastercard's end, they believe that a consumer-forward strategy wins in the crypto space. Gemini's robust platform fits this ideal by offering user-friendly integrations that bridge consumer needs with digital assets that shape the next generation of ownership. 
The Gemini x Mastercard waitlist is still taking applications—visit their website for more information. They're also holding a lottery for a Beeple x Gemini credit card, where 50 lucky winners can obtain an exclusive credit card featuring Beeple's artwork. 
Leave a Reply