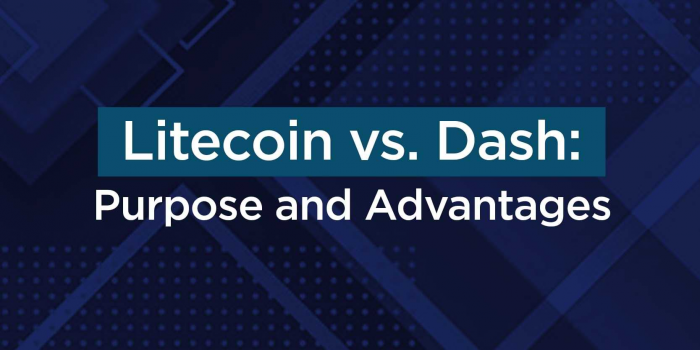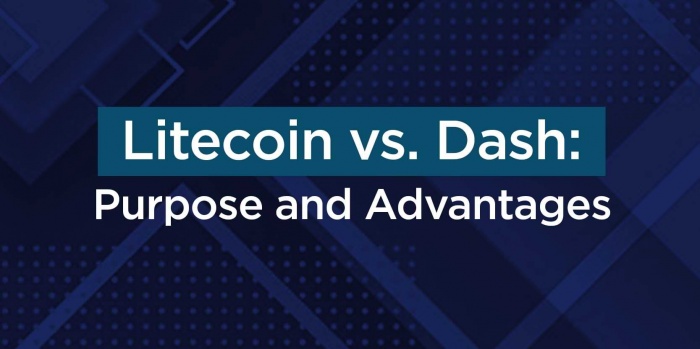 Litecoin vs. Dash: Purpose and Advantages
Reading Time: 7 minutes
The cryptocurrency market is changing rapidly, and with it, the landscape of what's hot and what's not. Litecoin and Dash are two cryptocurrencies that have been around for a while, but which one is better?
Litecoin vs. DASH: An Overview
Dash and Litecoin are two separate cryptocurrencies with distinct features. With Dash focusing on privacy-based transactions while providing instant payments to anyone in the world. Litecoin crypto focuses not only on transaction speed but also near-zero fees that allow people all over the globe to use their currency without restrictions or limitations.
What is Dash cryptocurrency? Dash is the first and most popular privacy-centric digital currency. It has gained traction as a means of payment for legal and illegal transactions due to its high level of anonymity. Litecoin (LTC) crypto was created in 2011 by Charlie Lee, emphasizing fast transaction speeds at low costs; it's also one of the few cryptocurrencies that can be mined without expensive hardware or GPU cards.
Litecoin vs. Dash Coins: Which Is Better?
The Litecoin vs. dash coins debate has been going on for a while now. If you are looking to invest in cryptocurrency, you must understand the differences between these two crypto coins before making your decision. Let's delve into the advantages and disadvantages of Litecoin and Dash Coins.
Advantages of LTC
Decentralized: Litecoin is a peer-to-peer network that eliminates the need for third parties and central banks, making transactions easier than ever before. The nodes are spread globally, which means that prices cannot be manipulated by anyone in charge of an individual node.

Scalable: The Litecoin network can process 56 transactions per second, with the number of miners increasing constantly.

Security: Litecoin's transaction speed makes them more secure against malicious attempts at hacking into an account- stealing money or using up all your funds by sending spam transactions.
Disadvantages of LTC
Conflict in Credibility: Charlie Lee has always been a respected name in the industry, but his reputation faltered after selling off his interests last year. The decision to withdraw Litepay also affected Litecoin's credibility- its announcement was met with enthusiasm among users and then suddenly withdrawn for no discernible reason at all.
Advantages of DASH
Reward System: Dash crypto has created a unique system that incentivizes Masternodes and supports the Dash ecosystem.

Extent: With Dash, you should be able to send money across the globe without high transaction fees.

Security: The Dash cryptocurrency ensures that users enjoy the highest transactional and financial privacy level via a revolutionary new feature called PrivateSend.
Disadvantages of DASH
Decentralized Controversy: The controversy surrounding the 2 million coins set aside by members of a development team for themselves is causing some community members to question whether or not it's decentralized.
Litecoin and DASH: How Can They Be Bought, Stored, and Used
For those looking to buy Dash (DASH) or Litecoin (LTC), you can do so through a Credit/Debit card or Bank Transfer. To purchase with a credit/debit card on the exchange, create and validate your account by providing personal data. Once approved for use at this exchange, you'll be able to start buying Dash (which may also require an ID).
Generally speaking, five different types of cryptocurrency wallets offer various features and security levels. The primary ones include mobile, desktop, paper wallet (or cold storage), hardware or offline devices like a USB stick or hard drive, and online/mobile wallets. They can be accessed through the internet from anywhere globally on any device by signing up with an exchange service provider.
Online Wallet: Online wallets are the easiest way to make transactions. They're also more vulnerable than offline storage. 

Mobile Wallet: These wallets can be downloaded into your phone's app store, like other apps you download on the device. All of these mobile options allow users an opportunity to quickly scan QR codes with their phones' cameras to complete transactions without any hassle.

Desktop Wallet: A desktop wallet is a way to store cryptocurrencies with more security than on your phone or online. Still, you need to make sure that the wallet has ultimate protection and can't be accessed by anyone else.
You can use Litecoin and Dashcoin for making transactions, investing in crypto projects or goods. The currency is decentralized like most cryptocurrencies, and it's also improving on the blockchain technology to stay that way. The Litecoin and Dashcoin protocol offers a way for individuals and institutions to buy goods, transfer funds between accounts, or make donations in conjunction between entities.
Which Is The Better Investment?
The Dash vs LTC battle has been an interesting one. Litecoin's recent popularity is due in part to its four-times lower price than Bitcoin. However, what puts Dash ahead of many altcoins like Litecoin is its super-fast transaction speed compared with the scaling issues that have plagued Litecoin and other cryptocurrencies.
Several factors are affecting the long-term prospects for both coins. Experts believe that they have a strong correlation and satisfy complementary niches, which is why users should explore them before making decisions on what coin to trade with or invest in. It is a personal decision.
Future Predictions & Developments
Litecoin Price Predictions: Recent upgrades to Litecoin Core and the Lightning Network are likely to increase adoption worldwide. In a recent statement, their team stated that they hope these actions will make it more usable for everyday transactions worldwide, increasing its potential value.
Dash Price Predictions: Dash is working on a new technical feature, Dash Evolution. The alpha version of the revolutionary project will be released soon and promises to make their coins more user-friendly by making it easier for you to use your money with them.
Conclusions
The Litecoin vs Dash comparison has been long debated, but the answer to which coin is better may not be clear. That said, there are some essential distinctions between these two coins that you should know about if you're considering investing in either one or both of them. After reading our post, we encourage you to do your research before making any investment decisions. Therefore the average investor needs to be diligent about his investments to avoid losses that you could have prevented with more careful consideration.
Leave a Reply