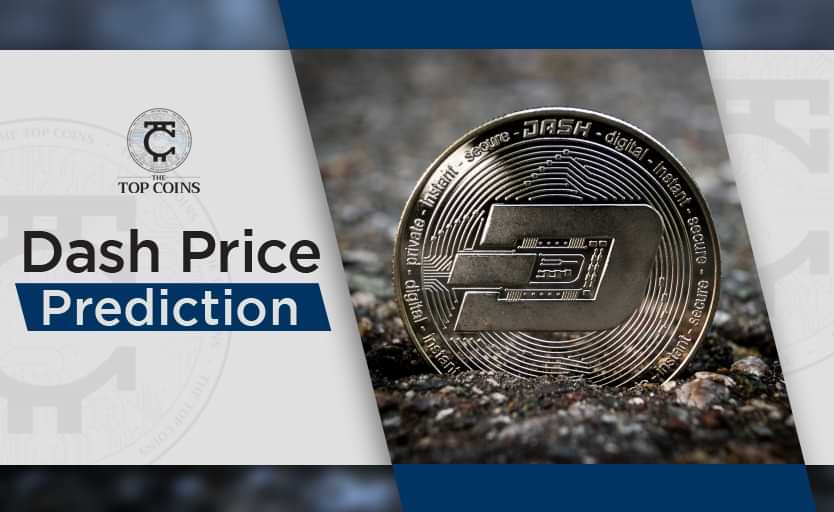 Dash Price Prediction: 2021, 2022, and Beyond
Dash (DASH)  has been one of the most prominent figures in cryptocurrency. It boldly aims to be digital cash that you can spend anywhere. While top dogs, such as Bitcoin (BTC) and Ethereum (ETH), struggle with scalability, Dash doesn't, due to its unique model. It shines with massive potential for market penetration–a longstanding goal of cryptocurrency. 
Over the next few years, the Dash price prediction is crucial in capturing further interest for this token.
Dash offers a range of unique features that are attractive to both traditional and contemporary cryptocurrency investors. For one, it's a minable asset, which means that DASH coins can be earned through a computer. But it uses a less-explored algorithm (more about it below) that addresses the transaction speed issue of its predecessors, Bitcoin and Ethereum. Dash also functions as a digital wallet and transaction system, which means that you can easily trade the currency with others–just like fiat money! As the coin focuses on negating some of the pressing issues in the cryptocurrency sphere–such as scaling, transaction cost, speed, and usability - it can see bright days ahead.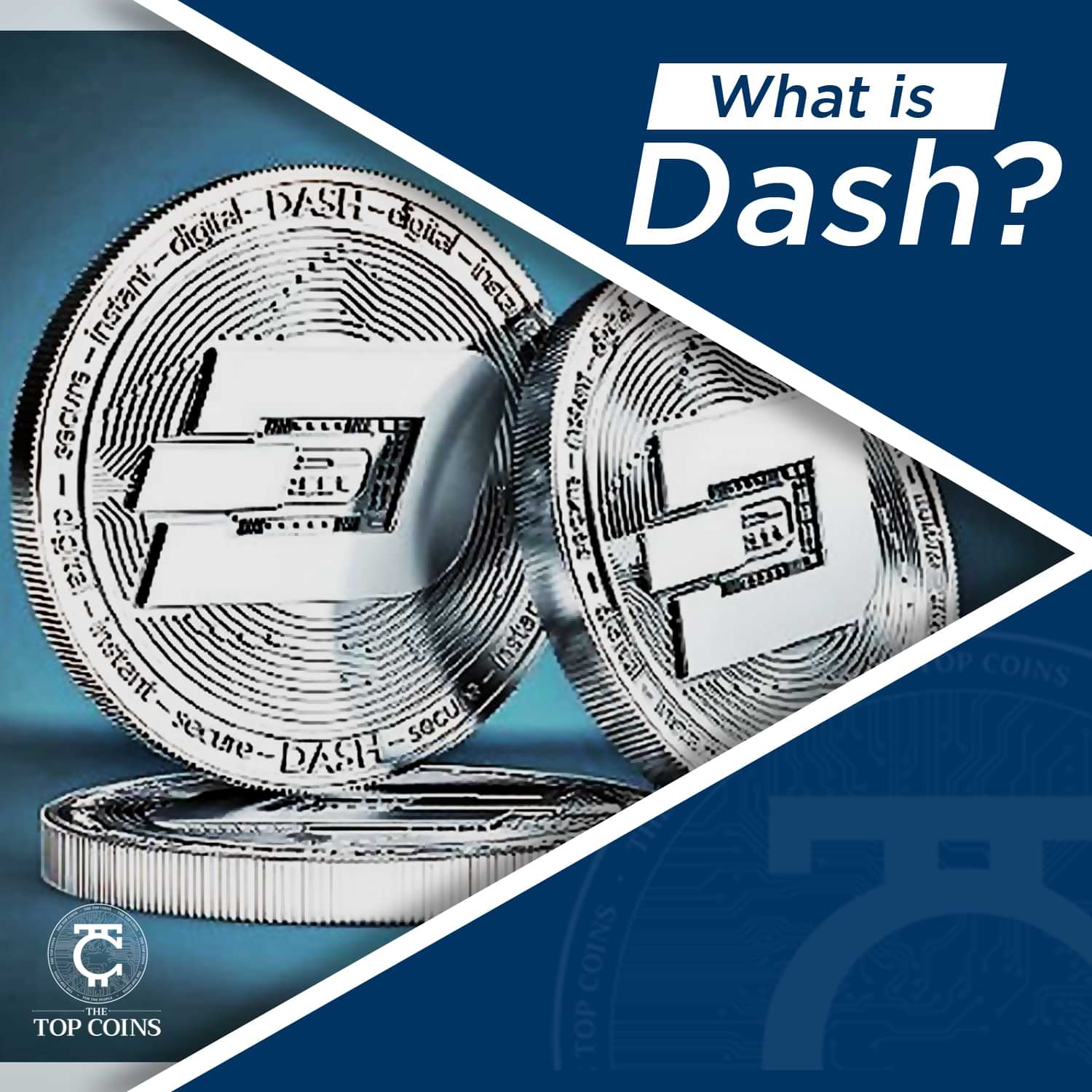 What is Dash? 
Dash has been publicly known since 2014. It was originally launched as XCoin by a prominent figure in the cryptocurrency sphere, Evan Duffield. He was unhappy with Bitcoin's slow transaction speed and wanted to create a token with more enhanced features. These included a quicker transaction speed and a significant focus on privacy. The result was originally a hard fork derived from Litecoin (LTC) which eventually grew its brand by the name of Darkcoin. In 2015, DASH became known as what it is today - a cryptocurrency centered around digital transactions. 
Unlike Bitcoin, which can have a maximum of 21 million coins in existence, Dash can only have 18 million. From an investor's perspective, that's a good sign. A smaller number of coins in circulation means a higher chance for a price increase. 
Dash is a minable currency, making it ideal for patrons of the traditional cryptocurrency model. It uses a subset of the Proof of Stake (instead of Bitcoin's Proof of Work) called the X11 algorithm. The result is an average block mining time is 2.5 minutes - a stark contrast to Bitcoin's 10-minute average. That means that Dash can process more transactions than Bitcoin. With the ability to process 56 transactions per second, Dash has become a valuable asset with potential for everyday usage. 
From a technical standpoint, one of Dash's key features is its unique use of Masternodes. They make up the second tier of the blockchain network and are crucial in simplifying the verification process. It's pertinent to address scalability, as it reduces the number of nodes that have to go through the first network tier. 
Dash is also known for putting privacy first and foremost. Its utilization of PrivateSend (through Dash Core) allows it to increase the network's security by swapping coins between users. This feature maintains DASH tokens' fungibility by making them untraceable, so others can't find their history on the network. In conjunction, InstaSend allows DASH token holders to transfer funds almost instantly.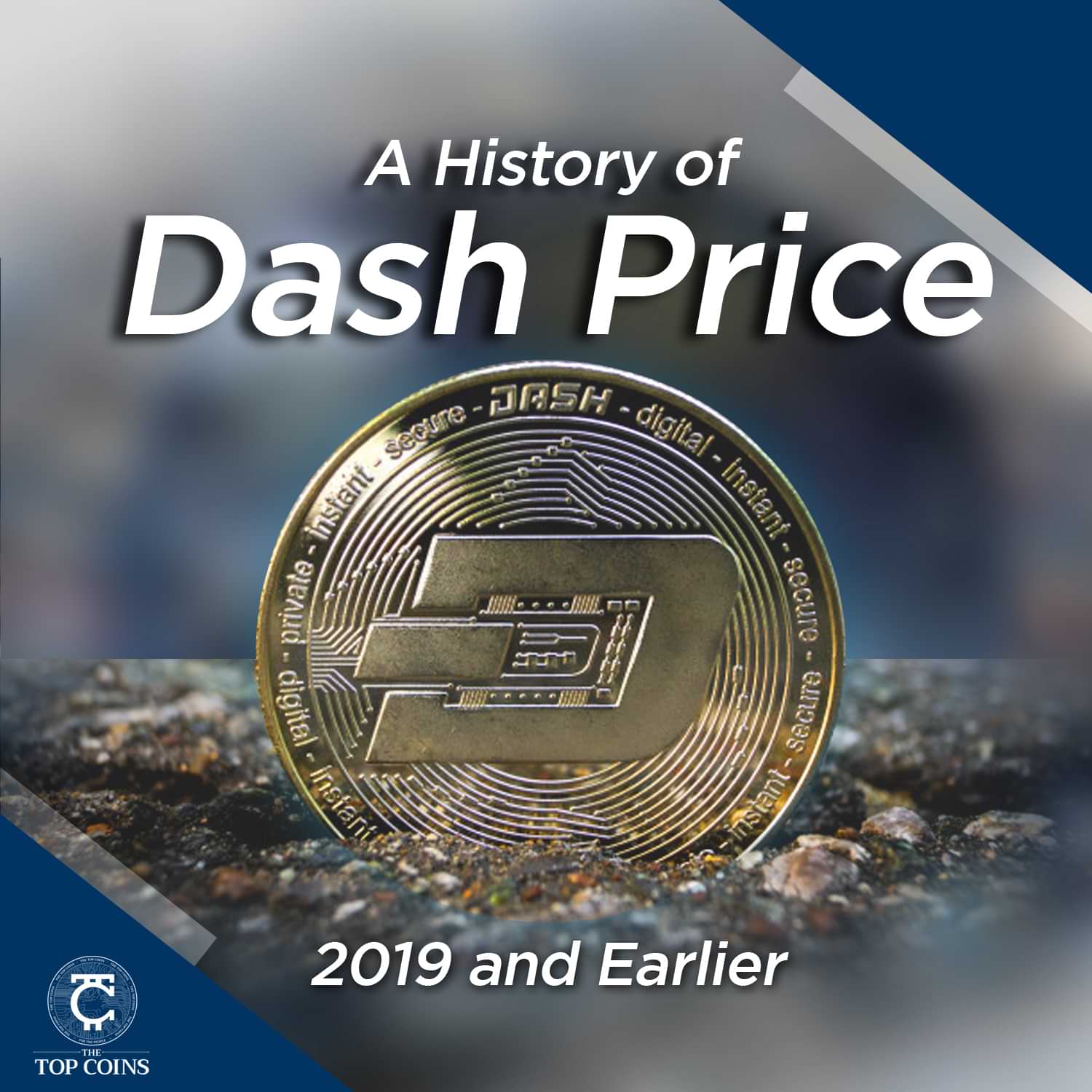 A History of Dash's Price (2019 and Earlier) 
Dash saw its first major price hike of 8000% in 2017. In August 2016, DASH was sitting at a low $12 but saw a massive bull run at the start of 2017, when prices went up to $102. But it wasn't until the end of the year when the cryptocurrency market saw one of its greatest bull runs yet. Along with Bitcoin, DASH prices went up to a whopping $1,500. The spike brought global interest to the DASH token. 
Because of the volatility of the market, the cryptocurrency bubble crashed. Along with other key players, DASH wasn't able to maintain its spot at the peak. That's normal, however, as massive spikes in prices are historically unstable. DASH coin prices fell in the 2018 bear market, reaching the major lows of $40 to $65. Toward the end of 2019 and the start of 2020, prices positively made it back up to the $100 milestone. 
DASH's identity as a currency rather than an investment asset (unlike Bitcoin) means that it's highly dependent on the state of digital transactions. While the pandemic had put a halt on its progress, the heightened dependence on digital wallets is good news for Dash. The entire world is quickly adopting digital payment strategies. It goes hand-in-hand with Dash's plans on becoming a usable alternative to other forms of online payments. As a result, Dash is something to look out for now as it has huge potential to grow in the future. 
Is Dash Coin Worth Buying? 
Dash rolled out few developments in 2020, so it has little improvement from a price standpoint compared to competitors such as Bitcoin. While other cryptocurrencies, such as Ethereum and Litecoin, are better investments in the meantime, Dash is slated to grow exponentially in the near future. 
The drivers for Dash's growth are primarily: 
How well its new social payment wallet is received once it leaves the testnet and is rolled out to the public. 

Improvements for DashPay and other Dash-related platforms. 

Securing partnerships with blockchain accelerators and major financial companies, such as banks, ATMs, and even other digital wallets, including PayPal.  
In 2020, Dash succeeded in adding DASH coins to 11,000 ATMs across Mexico. In the same year, its neighbor, Venezuela, also saw a 500% increase in cryptocurrency usage. While penetration in Latin America signalled a good year for Dash, it remained relatively quiet from a global perspective. As a result, DASH prices didn't significantly improve over the past year. And even in the current bear market, its prices are unstable and very volatile. It's advisable to hold on for better news before buying DASH now. 
Until then, below is our Dash Crypto Price chart…
What is Dash Coin Worth?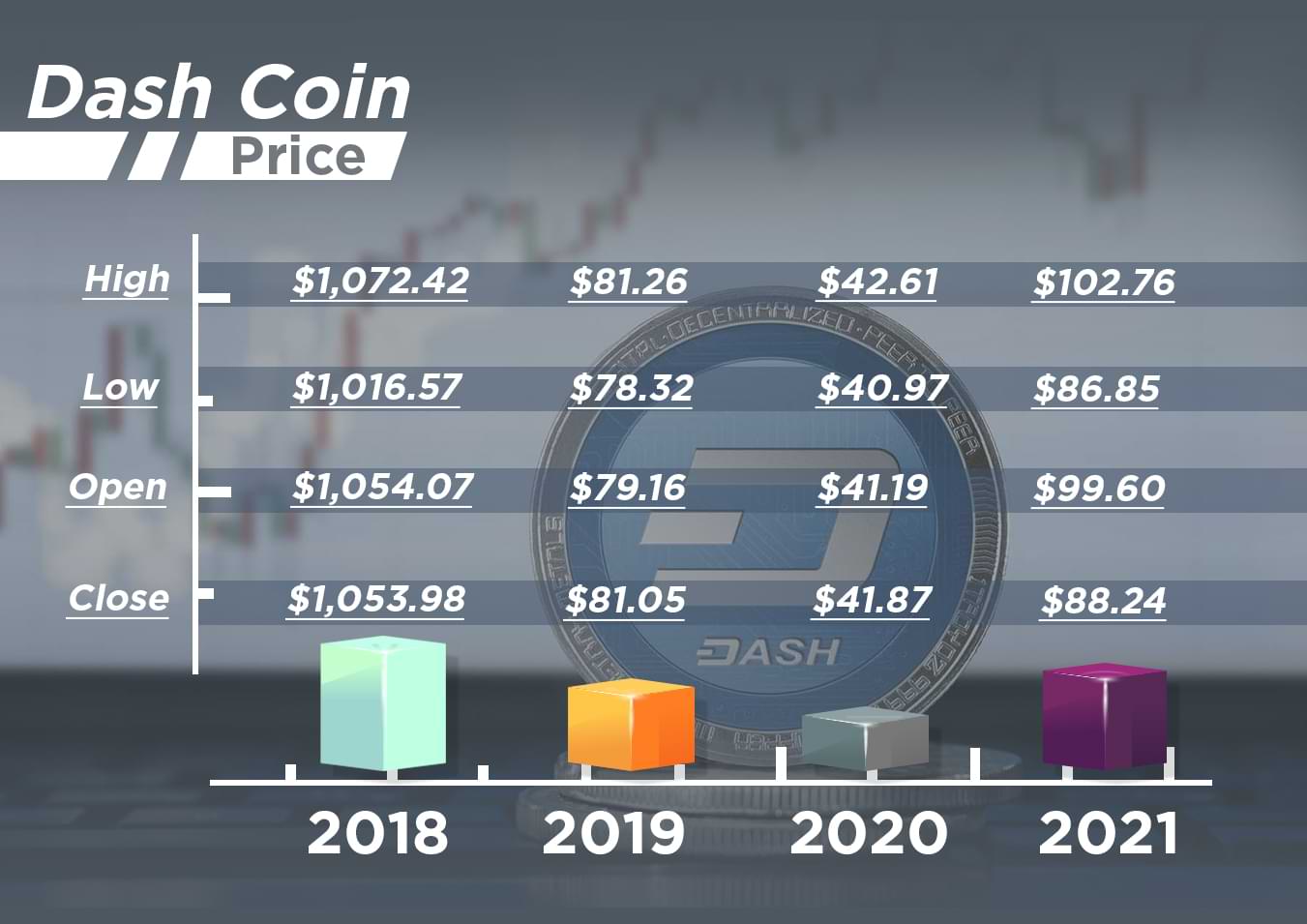 Dash Price Prediction for 2021 
A lot of factors come into play when determining the prices of cryptocurrency. But ultimately, it depends on the token itself and what role it plays–or aims to play. For DASH, its role as a digital currency is what will eventually determine its price in the future. Some important figures in the cryptocurrency industry have shared insights concerning this token over the next few years.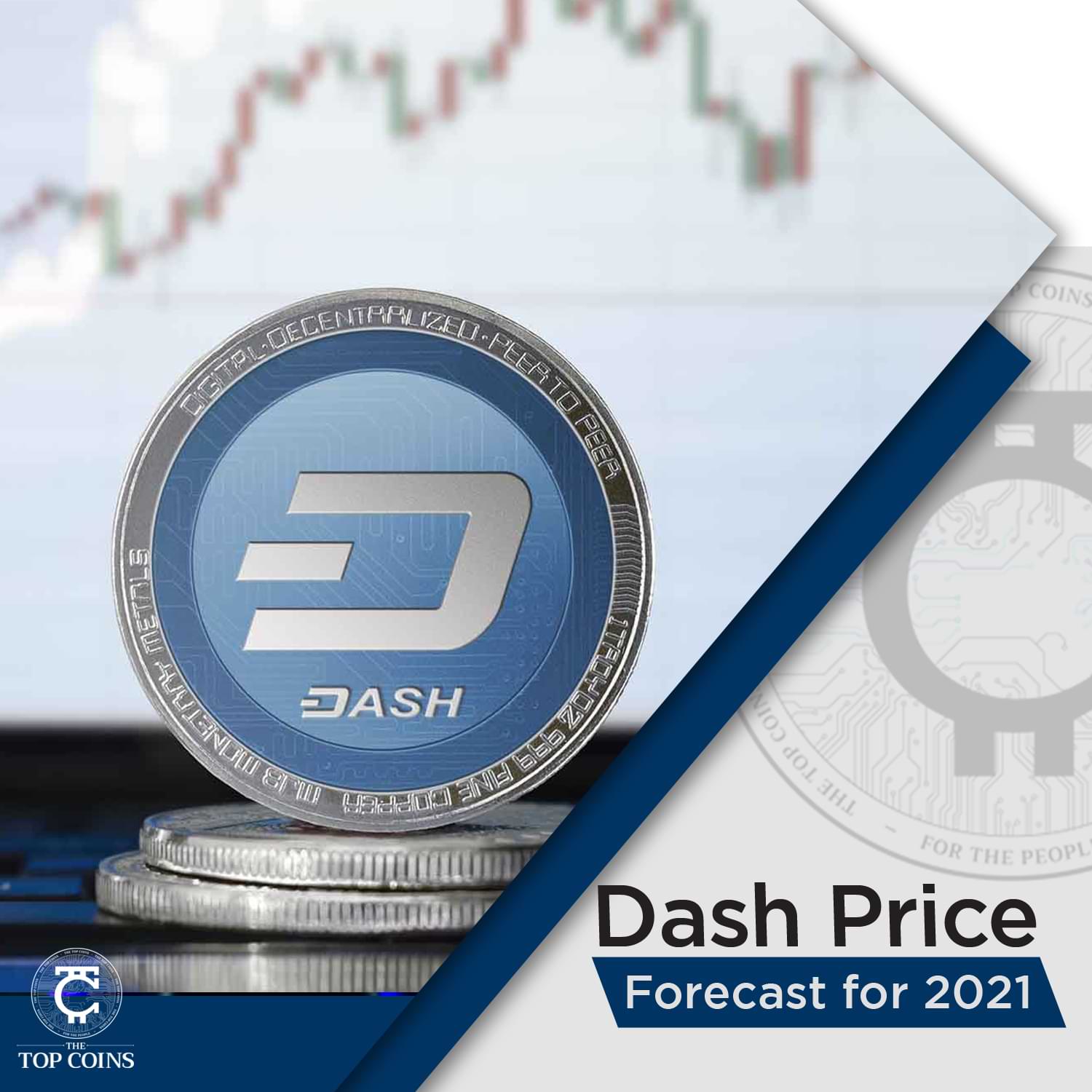 1. Coinswitch 
According to Coinswitch, one of Dash's most important points of difference is its ownership of over 4,500 servers worldwide. These allow Dash to instantly close transactions from anywhere in the world, making it a highly usable asset by almost anyone. This feature is important in bringing cryptocurrency to a wider audience, so it's a wonderful feat for the entire industry. 
The launch of Dash's mobile app has brought strides to its accessibility. It's a user-friendly platform that can be used worldwide. Anyone can set up an account on the Dash blockchain. They can also make basic transactions and purchase things online–all through the app. 
That's a massive development for Dash because it heightens the usability and reach of the coin. As mass adoption has become possible, 2021 is looking bright for the token. Coinswitch believed that DASH might make it to the $950 mark by the end of 2020. This didn't happen as the token remained in the $102 mark by that point. But it's entirely possible for further development to scale the price up to the original forecast by the end of 2021. 
2. Coinpedia 
Coinpedia believes that 2021 is extremely bright for Dash, as it's currently building a wide range of new connections. Dash is focused on partnering up with payment intermediaries and businesses of all sizes in hopes of widening its adoption in the real world. It was once only an easy-to-use cryptocurrency. Now, it aims to be one of the first in the easy-to-spend category. This feat is something to watch out for and will likely affect its prices in the short and long-term. Dash's reliable network can mean a price hike of up to $2,000 by the end of 2021. 
3. Trading Beasts
Unlike the two above, the Trading Beasts experts have a more conservative take on Dash prices. They suggest that prices will dip to an average price of $87.32 and don't recommend it as an investment in the meantime. This prediction follows the post-bull run trend where market prices tend to drop for the cryptocurrency market as a whole. However, no prediction indicates the final price of the coin throughout the year. It's best to keep watch and pay attention to the way the market and headlines move. 
Dash Price Prediction for 2022 and Beyond 
Because many of Dash's developments are either still in their drafts or have only begun their progress, it's difficult to fully grasp how its value is expected to grow over the next few years. But jumping on the idea that the next year will be a positive one for the coin, it's expected that prices will reach an all-time high of up to $2,000 by the end of 2022. 
It gets a little tricky beyond that. Looking into the bright side of things, the success of Dash's mass-market penetration can bring prices up to a whopping $8,000 by 2025. But that comes after geographic expansion, bigger blockchain projects, successful partnerships with major banks and payment providers, and fully rolling out its social payment wallet. For now, Dash rides solely on the market's interest. After which, the issue is user retention. 
A good question you can ask yourself now is… 
How Many Dash Coins are There? 
There is a maximum supply of 18 million DASH coins. 7.4 million are currently in circulation, and the supply is expected to last until the year 2300. In 2018, the DASH reward per block was 3.34, but it decreases by 7.14% every 210,240 blocks mined. 
No one currently alive will make it to the year 2300, and by then, the world would have changed considerably. As a result, there's no worry about the DASH coin supply running out any time soon and certainly not in the future either! 
Conclusion
Dash established itself as a unique player in the cryptocurrency market, and that shows with the amount of interest it receives among coin enthusiasts and investors alike. Right now, however, there's a massive interest in cryptocurrency as an asset. Much attention has been poured into Bitcoin, which now plays the role of "gold" in the crypto sphere. 
However, once the hype dies down and interest for coins as digital currency returns, there's no doubt that DASH will be a frontrunner in that wave. Bitcoin essentially failed in replacing third-party payment intermediaries, so the race to become what BTC intended to is likely to take off soon. Over the next five to ten years, faster and cheaper digital currency options will likely show up on the market. As the need for functional digital currencies continues to grow, so will Dash's future continue to shine brighter. And its value will certainly rise alongside its success. 
Dash has been quiet for most of 2020. But it's blazing ahead in 2021 with a clear goal to build partnerships with major payment platforms, blockchain accelerators, and cryptocurrency wallets, and expand its usability. Price forecasts show that 2021 can either be an unimpressive year or its big opportunity to break into the major playing field with values from $87 to $2,000. If all goes well, then DASH can see an all-time high of $8,000 by 2025. For now, it's best to keep watch for any major developments with the token, its platform, and the adoption of digital currency as a whole.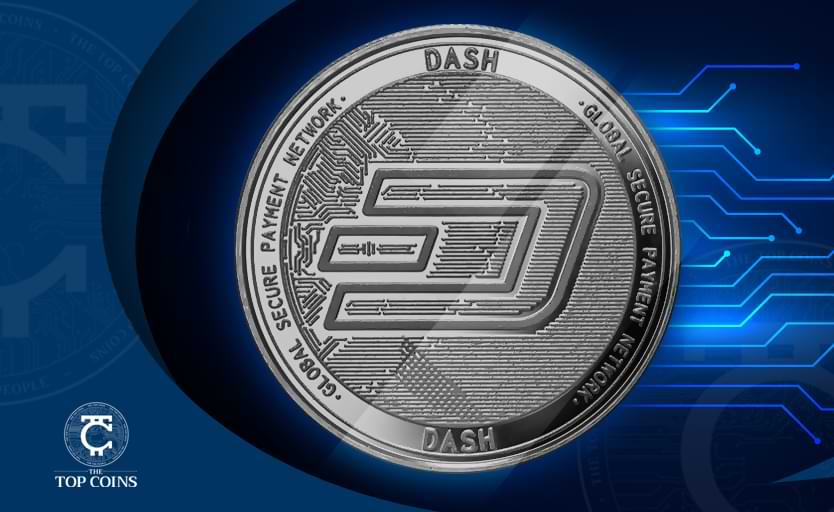 FAQ
Dash Investment
1. Is the DASH Cryptocurrency Still Alive? 
Yes, it is! While DASH has stopped pining for the top 10 spots on the market, it retains its place with the top 20 coins. Rather than dead, DASH is more so a dormant asset waiting for the perfect moment to shine. 
A good way to check a cryptocurrency's health bar is to stalk the coin market. If the total market cap and daily trading volume don't move, then it's a bad sign as people aren't transacting with the particular coin enough. Other indicators of a dying coin are stagnant prices over a long period (as Bitcoin movements usually influence smaller altcoins) and sudden price sinks due to bad news. The Dash market is actively moving, evident in its 10% to 100% price hike over the past 24 hours. 
2. Is Now a Good Time to Buy Dash? 
DASH prices are unstable, and without any good news on its current projects, there is no guarantee that a price hike will occur anytime soon. It's best to wait for Dash to reach the coin headlines or wait for the market to guarantee a stable bull run. 
Today, Dash has a market capitalization of over $2,536,644,282 and a 24-hour trading volume of $3,450,287,949. Its value currently stands at $134.30–an 18% increase from the previous day and a 67% increase from the previous week. This price increase was spearheaded by the Bitcoin bull run, which is a common trend among altcoins. Generally, whenever BTC enters the end-of-year to the start-of-year bear market, others are likely to follow. However, the market isn't necessarily following a fully upward trend as the DASH value remains extremely volatile. It can go up or down by 15% to 100% in the next 24 hours, so the market is still currently risky to commit to in the long-term. 
However, Dash has recently announced that its social payment wallet has finally entered the testnet. Think of the testnet as a test server for blockchains, so developers can experiment and try new features without using real coins. This announcement is major news as it means that Dash is speeding up its plans toward mainstream adoption. While now isn't the time to hoard DASH coins, it's a good time to put Dash on your watchlist and keep up with the news surrounding its platform development. Any massive moves–such as rolling out the new wallet or governments embracing the idea of Dash–can mean a price increase and a cue to buy DASH before that happens! 
Dash is only one step behind the frontrunners of cryptocurrency. Its identity as a private, highly accessible, and useable digital currency has been crucial for transactions in developing countries like Venezuela. As a minable asset, it's also favoured by traditional cryptocurrency enthusiasts. 
Dash is arguably a very good token because it aims to be what its predecessor, Bitcoin, could not become. While cryptocurrency's original goal was to break away from third-party intermediaries and become a new generation of currency for the people, Bitcoin diverged from that goal and became the opposite. Bitcoin became digital gold–an asset unattainable by ordinary people. 
In contrast, Dash's intention is strictly to become a currency that can be adopted by the mainstream market. Venezuela is a good case study to prove this point. Over 2,500 merchants in the country, from local cafes to international brands, already accept DASH coins as a payment option. One of the driving reasons for this small success story is Venezuela's distraught economy riddled with hyperinflation, government control, and currency devaluation. They needed an alternative currency that could work around their difficult situation, and Dash is one of the frontrunners in that effort. 
Dash released a range of features, such as SMS transaction support and DASH wallets, to cater to Venezuela's mass adoption. Think about the same functionality, but on a much wider scale. Imagine being able to transact with anyone, anywhere in the world, without worrying about differences in currency. That's what makes Dash a valuable player in the market. 
Dash Mining
1. Will I Get a Profit from Dash Mining? 
Dash is mined through the X11 algorithm, a subset of the Proof of Stake model. It is possible to make a profitable business out of Dash mining if you have access to low-cost electricity and powerful ASIC rigs. 
If you're getting into Dash mining for the first time, it's important to choose the right rig that could last you years, merit you the most profit, and is compatible with the X11 algorithm. It's highly recommended that you choose an ASIC rig, a computer created for a specific purpose. In this case, you want to shop for an ASIC rig specifically for Dash mining. These computers are devoid of all features that aren't required for mining, so they can't multitask for personal use. As a result, the initial investment can be costly. 
Here's an approximate price breakdown to help you get a good idea of how much mining Dash coins would cost you in 2021. 
Take a look at the Baikal BK-G28, capable of mining eight algorithms, including Dash's X11. Based on price alone, it's a higher-end model with an on-sale price tag of 1,199 GBP (1,618 USD or 2,100 AUD) but is a flexible option if you're looking to explore mining various cryptocurrencies. It can mine at 28 GH/S at 1,300W. Based on CryptoCompare's Dash mining calculator, you will need 13 of these rigs to make a minimum profit of 5.68 USD or 7.36 AUD per month. Depending on how expensive the electricity bill in your area is, you may need as much as 20 rigs to make a minimum profit. If you want this venture to be profitable enough to replace a full-time job, then you're looking at owning hundreds of Baikal rigs. 
In contrast, an ASIC rig dedicated to mining just the X11 algorithm is much more cost-efficient. The StrongU STU-U6 is marked down at 649.99 GBP (877 USD or 1,137 AUD) and is dedicated to X11 mining. It means that this rig can only be used for mining a select list of cryptocurrencies, including Dash. However, it can mine at 440 GH/S at 1,950W. With these specs, you can make a minimum profit of 116.77 USD or 151.44 AUD per month with only two rigs! With an initial investment of 17,540 USD or 22,740 AUD for 20 rigs, you can make a reasonable 2,335 USD or 3,029 AUD per month, plus a possibility to earn more if DASH prices go up. But you may need approximately 7-8 months before getting a return from your investment. 
2. How to Mine Dash Coins? 
Prepare a mining RIG. ASIC mining is recommended as it responds best to the network. 

Get a DASH mining pool, which you can find through the Dash website or a Dash forum. 

Configure your miner—connect to the internet and leave it to work! 
3. How Long Does It Take to Mine Dash? 
Your Dash mining speed depends on your hash rate. You need approximately 12,000 GH/s to mine 1 DASH per day. That equates to a 12000000000000 hash rate, which you will need over 50 rigs to achieve. It may cost you at least 40,000 USD or 51,000 AUD. 
4. How Do I Withdraw My Dash Coins?
Access your cryptocurrency wallet and click "withdraw." 

Select your DASH wallet. 

Choose your withdrawal address—the bank account or card where the cash will transfer to. 

Type in the amount of DASH you want to withdraw. 

Click the review or complete button to process the withdrawal.
Dash Prediction 
1. How Relevant Will Dash Be In the Future? 
Dash is a unique cryptocurrency with very few flaws and huge potential for development. Once the adoption of digital transactions becomes more widespread, and interest in the platform grows, Dash's future will also shine more brightly. 
Investors' eyes are currently locked toward Bitcoin, which has been dominating the January 2021 bear market with price milestones of over $40,000. But Dash has a more longstanding and sustainable goal of negating the idea of coins as investments. Instead, it brings back cryptocurrency's original value proposition: a decentralized digital currency that can be transacted instantly, anywhere in the world. COVID-19 forced large institutions and the government to switch their interests toward the digital sphere, setting up the perfect stage for Dash to leverage and market itself to the mainstream audience. Given these circumstances, Dash is certainly relevant now and will continue to be in the near future. 
2. Will Dash Prices Increase? 
The DASH token is still in its early stages. As its success is directly related to the mass adoption of digital wallets, prices are expected to increase–but it can take some time. Prices are likely to shoot when Dash remains relevant in the next five years or so. 
3. Will Dash Prices Go Up in 2021? 
Coinpedia—According to Coinpedia, there is an opportunity for DASH prices to reach the $2,000 mark by 2021. The price prediction falls under the premise that Dash successfully closes partnerships and further develops its network and platform. 
Dash and Bitcoin
1. Is Dash Related to Bitcoin? 
Dash was originally forked from Litecoin, which, in turn, was derived from Bitcoin. So Dash is indirectly related to Bitcoin–but their purpose and usage are completely different. 
What makes Dash different from Bitcoin is that it isn't equated to digital gold. Instead, it acts as an alternative currency. It has found plenty of use in struggling economies, from providing alternative trading methods to additional sources of income. It's effective enough to be used quickly and with an almost negligible transaction fee. Because of all its merits, the next decade can be a turning point for this token. 
What is the difference between Dash and Bitcoin?
Bitcoin is the frontrunner of cryptocurrency, but it has been likened to "digital gold," which investors see as an asset rather than currency. Dash is the opposite—while it is a cryptocurrency that is mined similarly to Bitcoin, it aims to be a medium for transactions worldwide.
2. Is Dash a Fork of Bitcoin? 
Dash was forked from Litecoin, which was, in turn, a fork of Bitcoin. While this relationship makes the two indirectly related, Dash addresses many of Bitcoin's issues, including transaction speed, cost, and useability. It has a higher chance of succeeding in becoming a worldwide-adopted digital currency. 
Dash Masternodes
1. What is Dash Masternodes? 
Dash masternodes are more advanced servers that exist in its blockchain network. They are backed by collateral and are regularly paid for their services. In exchange, masternodes occupy the second tier of the blockchain and work to increase the number of transactions that can be processed per second. 
These masternodes are in charge of verifying advanced functions, including Dash Core's PrivateSend and InstantSend platforms. They also regulate the usernames on the blockchain network. They have a higher level of authority in making bigger decisions related to Dash's projects, as opposed to ordinary miners. For instance, the operators behind each of the 5,000 Dash masternodes can participate in a monthly vote for up to 10% of the block reward. The asset will then be used to fund community projects related to Dash. 
2. How Many Dash Masternodes Exist? 
There are about 5,000 Dash masternodes located in 45 countries around the world. Their widespread reach allows for global platform adoption. Masternodes occupy the second network layer of the blockchain network, decreasing the processing time per transaction. 
How much does a Dash masternode earn? 
Masternodes are utilized in the X11 mining algorithm, which is necessary for increasing a cryptocurrency's transactions per second. You need 1,000 DASH coins to launch a masternode, which will earn you up to 6 DASH per month. It is possible to earn around 7% in profit if prices are high. 
Miscellaneous
1. Is Dash a Cryptocurrency? 
Dash is a form of cryptocurrency that aims to be what its predecessors, Bitcoin and Ethereum, failed to become. Its goal is to become a digital currency used in day-to-day transactions anytime and anywhere in and across the world.
The DASH coin itself is not anonymous, but you have the option to hide all your transactions. Your Dash history and transactions are untraceable by default due to its privacy-forward network. It uses its native platform, PrivateSend, to hide the origin of your funds. 
Leave a Reply