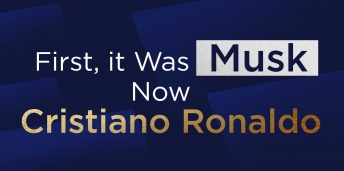 First, it Was Musk, Now Cristiano Ronaldo: How Influencers Are Manipulating The 2021 Investment Market
If there's a lesson to take away from 2021, it's that influencers have a huge say in the investment market—enough to make prices move in rocket spikes and dips. First, it was Elon Musk's tweets about supporting companies like Etsy and GameStop, causing share prices to skyrocket within hours. Then the multibillionaire had a run-in with the highly volatile and emotionally-powered cryptocurrency market, turning himself into the catalyst for bringing Bitcoin up and down, and is solely responsible for turning meme coins into a new investment fad. And then Portugal's highly celebrated pro soccer player, Cristiano Ronaldo, joined in on the market moving fun in the Euro 2020 conference—this time, with a direct rejection of beverage company Coca-Cola.
Cristiano Ronaldo vs Coca Cola
Portugal superstar Cristiano Ronaldo is a frontrunner for the title of the most influential athlete on earth. And he's just played his way into yet another position: Coca-Cola adversary. The 31-year-old, known to be an outspoken supporter of clean water and healthy living, rejected the beverage company in a pre-match press conference for the Euro 2020 championship. He moved the two bottles of Coca-Cola in front of him and procured a bottle of water, raising it and telling fans in Portuguese, "drink water."
Investors were quick to notice. Immediately following Ronaldo's stunt, Coca-Cola shares tumbled by over $5 billion, down from $73.02 to $71.85. The beverage company responded by stating that everyone has different "tastes and needs" and are entitled to their own drink preferences. However, the company has yet to speak up about the influential drop in share prices.
Ronaldo's Strict Diet Regime
A ripped, high-performing body requires strict maintenance—and Ronaldo's Coca-Cola rejection was certainly not uncalled for. He's known for consuming a high-protein diet with whole grain carbs, fruits and veggies, and most certainly no fizzy cola. He eats six small meals per day and sleeps in 90-minute nap cycles.
While the athlete has promoted unhealthy eating through McDonald's, KFC, and even Coca-Cola campaigns in the past, hardcore fans took to Twitter to applaud Ronaldo for moving away from sponsorships he genuinely did not support.
Still a Big Win For Ronaldo
Despite the market-moving fiasco, Ronaldo's performance on Tuesday didn't disappoint. He scored two goals against Hungary—their opening matchup—for a clean 3-0 win. This achievement tallies his total goals to 11, now the sole record-holder after previously sharing the 9-goal record with France's Michel Platini.
Musk vs Stocks & Crypto
Ronaldo isn't the only one moving markets. In 2018, Elon Musk took to Twitter to express how he planned to take Tesla private at $420. It turned out that there were no plans for such a move, triggering chaos from stockholders and forcing the SEC to step in to alleviate the situation. After negotiations, Musk stepped down from his position as Tesla's chairman. Three years later, he clearly hasn't learned his lesson.
During the Reddit-fueled GameStop stock frenzy, Musk joined in on the fun by tweeting "Gamestonk!!," which contributed to helping the unsuspecting retail company surge to an over-$10 billion valuation within a short period. He then announced that Tesla's Model S Plaid would appear in Cyberpunk 2077, the most anticipated game of the decade—released in a controversial frenzy for being a massive letdown. Game development company CD Projekt's shares took a major toll from players' disappointment—but Musk's tweet revived the company and helped it soar by over 12%.
Earlier this year, he also rallied tweets surrounding Bitcoin support, eventually allowing Tesla payments to be made in BTC. Two months later, he backed out due to environmental concerns. His latest shenanigans involve supporting the meme crypto, Dogecoin (DOGE), giving the market more than enough reason to obsess over similar dog-themed coins, including SHIBA INU (SHIB).
The Implications of Influencers in The Investment Market
While Ronaldo and Musk's movements were thoughtless in the sense of striking discord among investors, it's hard to say whether or not they mean what they did. Some experts believe that Musk's games with volatile cryptocurrencies didn't mean real harm—his opinions were simply that influential. Likewise, Ronaldo's stunt against Coca-Cola wasn't necessarily a call for a boycott in the stock market—he just genuinely didn't like the drink.
However, what stands is that the market's response to these influencers indicates that famous names have more power than they let on, especially in the shaky financial climate where everyone's struggling to maintain wealth. So while it may be unfair to call their actions direct acts of market manipulation, both companies and influencers need to be wary, or there may just be tumultuous consequences.
Leave a Reply