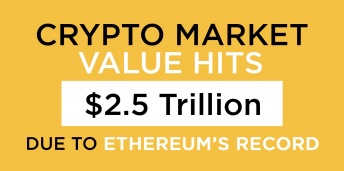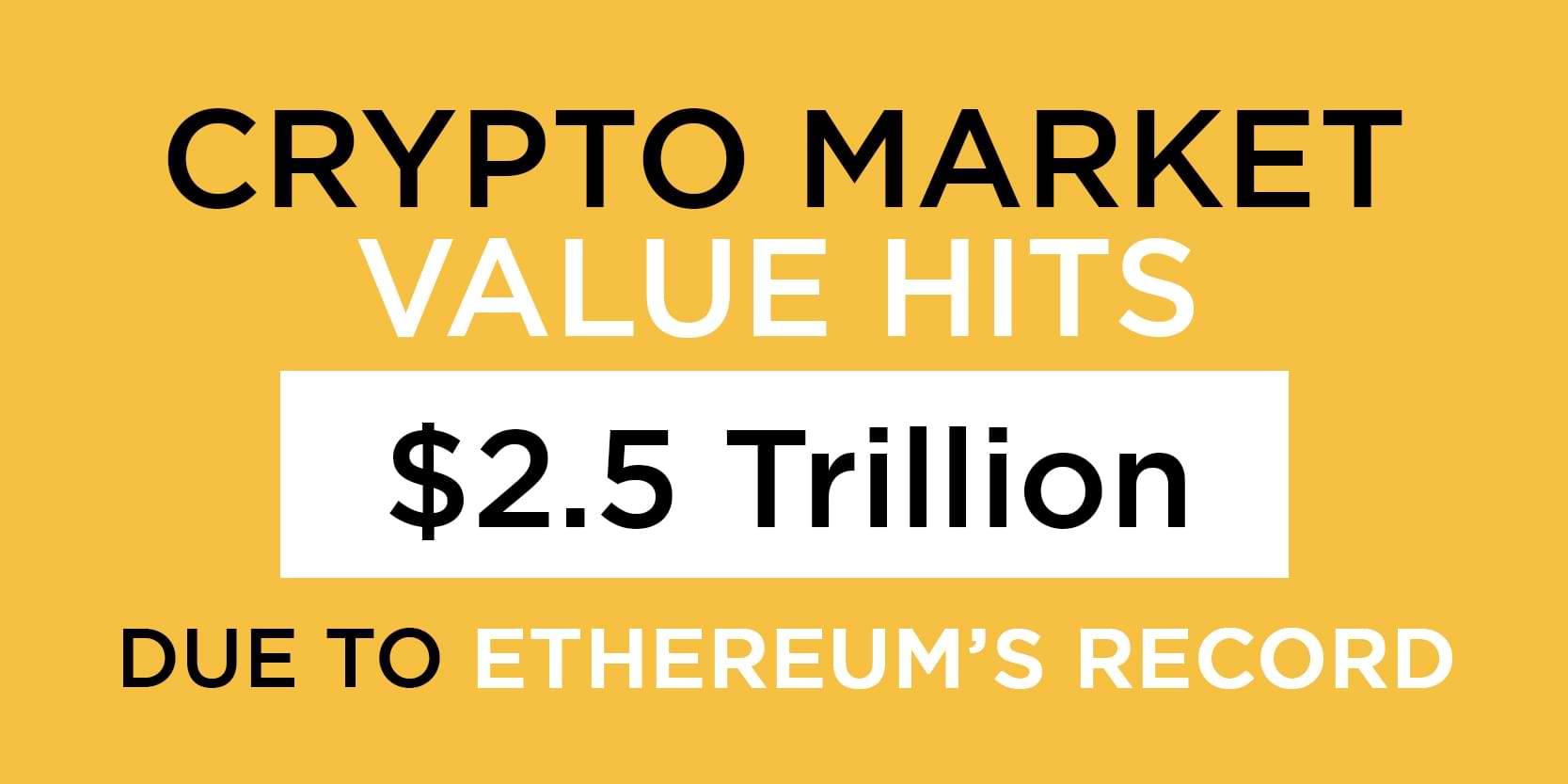 Crypto Market Value Hits $2.5 Trillion Due to Ethereum's Record
In just ten days, Ethereum has grown by approximately 90%, bringing in $1,000 more for every ETH investors have HODLed up in their wallets. Along with its fantastic rally is a breakthrough for the entire cryptocurrency industry—its cumulative market cap has now breached $2.5 trillion, signalling a new milestone for worldwide crypto adoption. A study showed that about 46 million Americans now own Bitcoin, but it was Ethereum's recent climb past $300 billion in market cap that pushed the record-breaking 2.5-trillion sensation. 
Ethereum Hits Record High
At the beginning of Q1 of 2021, ETH hit $1,000. When Q2 rolled in, its value swelled to $2,000. Now bordering Q3, ETH has touched an all-time high of just a shade under $4,400. This stunning growth had pushed Ether to an over-2,000% year-over-year growth since 2020 when the coin was trading for as low as $200. 
Ethereum's recent surge can be attributed to a shifting interest in the cryptocurrency market. While investors sought a store of value and saw Bitcoin as a solution, they're now interested in putting funds into blockchains with a multitude of use cases. While Bitcoin certainly performs as a peer-to-peer transaction platform, Ethereum currency does the same—and much more. The Ethereum network's ability to grow the internet's decentralised sector has empowered a new era of finance to grow, as developers can use the network to build applications through groundbreaking smart contract technology. 

But more than that...
The recent NFT boom has a lot to do with ETH prices skyrocketing to the moon.Non-fungible tokens (NFTs) are minted on the Ethereum blockchain through the ERC-721 standard, which is used to grant ownership to digital files on the internet. Images, videos, memes, and gifs—these are all forms of media that make up the online experience, but who truly owns them? While anyone can save the iconic Nyan Cat meme on their phones, NFTs have made it possible for there to only be one official owner of this file—the person who bought it for over $500,000.
You heard that right. $500,000—sold and purchased in the form of ETH. It's not the biggest sale in NFT history. Beeple has auctioned off digital artwork for $69 million. And now everyone's trying to score big in the NFT marketplaces, where a low barrier of entry has brought in millions of ETH transactions. This explosive use case for Ethereum is responsible for ETH's explosive rally, and a growing corporate NFT sector is likely to keep the trend going. 
Bitcoin Price Growth
This year, the Bitcoin crypto has been experiencing mood swings fueled by Elon Musk's tweets, striking a chord in panic sellers' hearts. Musk tweeted about supporting BTC in mid-March, prompting the coin to spike from $50,000 to $60,000 in less than a week. On the 24th, he announced that Tesla would be accepting BTC payments and that the coins won't be converted to fiat. By the end of the month, BTC was up by $6,000—from a $52,000 dip to a $58,000 high. More recently, the billionaire has been hyping up Dogecoin a lot more than Bitcoin, and Tesla's recent pull-out of the Bitcoin acceptance train—less than two months after the initial announcement—has investors in a confused frenzy, prompting a BTC sell-off. 
At $39,000 in mid-May, BTC has certainly seen better days. But the entire cryptocurrency market is mellowing out after a rally of wins for the past five months, so even Ethereum and Dogecoin are suffering from the wave of negative percent changes. 
Crypto Assets Current Rise
It's not just the two stars of the cryptocurrency market cap that has been scoring big these past few months. In fact, while Bitcoin and Etheruem boast large price tags, their gains have been delicate compared to the truly astronomical altcoin market. 
Dogecoin (DOGE) crypto notoriously spiked in mid-April, when Musk's interest shifted from BTC to the iconic memecoin, spiking from $0.07 to $0.3—over 300%—in just four days. From 2020 to 2021, it grew by a whopping 29,900%. Meanwhile, things have also been heating up with supply chain network Vechain (VET), which was $0.02 in February, but spiked to $0.2 just a month later. South Korea's Terra (LUNA) was $0.08 in January. In March, it was just a hair under $22—a 26,150% gain in two months! Ripple (XRP) currency had been falling off the market cap ranks after years of silence, but a recent lawsuit with the SEC, where things have been turning out favourably for Ripple, merited a 260% gain for XRP in ten days. 
Final Thoughts
The massive potential for use cases that NFTs offer in both a personal and corporate setting has brought explosive interest in ETH investments, as the coin is necessary for facilitating all related transactions. But while Etheruem was the catalyst to the cryptocurrency market cap's break past $2.5 trillion, it's important for institutional investors not to bypass the growth in the larger altcoin market. 
Leave a Reply