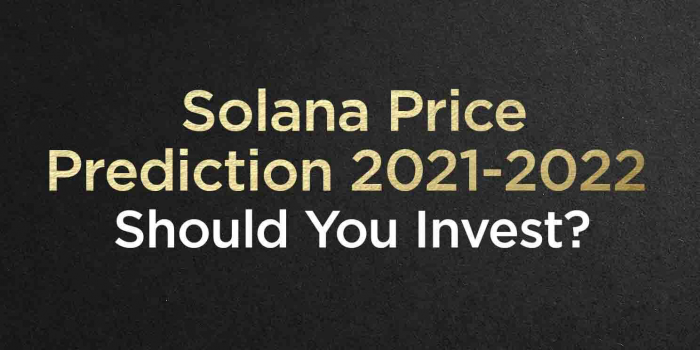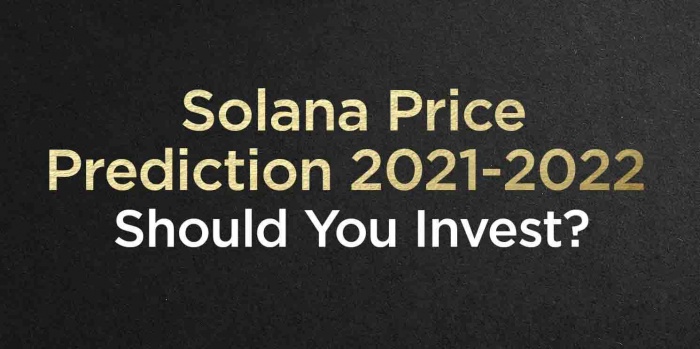 Solana Price Prediction 2021-2022 | Should You Invest?
Reading Time: 20 minutes
This article will briefly discuss the Solana price prediction and what the future could bring for its investors.
Disclaimer: The following information is NOT financial advice. This is strictly for informational purposes only.
Released in 2019 with a price of less than $1,  the Solana coin (SOL)  is the cryptocurrency for the Solana project: an open-source project that empowers resources within the blockchain ecosystem. These resources include wallets, Decentralized Finance (DeFi) transactions, non-fungible tokens (NFTs) ,  smart contracts, digital apps (dApps) and Proof of History to add into the Proof of Stake. With such an ambitious project that can make blockchain technology better, Solana has become one of the most popular investments in cryptocurrency. It keeps up with its other competing altcoins, including Terra Protocol (LUNA) and Polygon (MATIC), as a form of "fuel" to upgrade the rest of the aspects within the blockchain. 
Suppose you are interested  what crypto to buy right now and consider the Solana project as an investment. In that case, you may want to consider what it does, how it works as a fundamental technology, why you would like to spend money on it and what pros and cons it bears. 
What is Solana?
Solana is a scalable technology - meaning it will adapt to however the cryptocurrency changes, which makes it future-proof. However, its primary goal is to rival centralized transactions. If the centralized database can process up to 710K transactions per second on a gigabit network if these transactions are more than 176 bytes, then Solana can match - if not, one up - this network within a decentralized channel. SOL addresses the current issues within Bitcoin and Ethereum, including slow transfer rates and expensive transaction fees. As of right now, Solana can reach transaction speeds of up to 50,000 per second - making it one of the fastest transactions in the blockchain. It has also surpassed Ethereum in block count, leading people to call it the first web-scale blockchain. 
With the help of the Solana project, energy consumption will be minimized while maintaining better speeds - more than enough to make the centralized banks a run for their money (both literally and figuratively). It also helps secure both hot and cold wallets, making it both a security and utility protocol.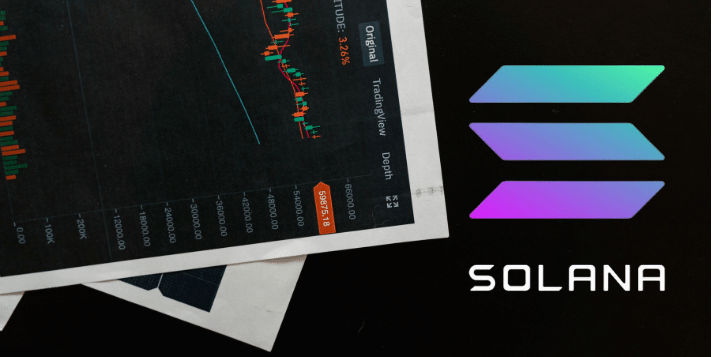 However, you may think, "Isn't this just another speculative cryptocurrency that does the same as Terra, Cosmos, Cardano or Polkadot?" Technically yes, their technologies are the same. Yet, the developers behind SOL attempt to make this the most prominent project compared to the rest. 
If you hold a bias towards Solana, it is quite understandable since the whitepaper makes a lot of sense. If Solana wants to create a transparent form of transaction between buyer and seller with very convenient transfer rates, then there's no surprise that more people want to invest in it. Seeing that developers made Solana scalable makes it an exciting project backed by a team of passionate developers and a few key collaborators that make the project a potential blockchain technology that may overtake the rest and sit within the same room as Bitcoin and Ethereum. You can also follow everything up to date with the project on their official Twitter account   which garnered 1 million followers and counting. That said, the  Solana coin became a worthy contender in the market, reaching #5 in the coin market cap.
Price Prediction and History of SOL
SOL is the native token for the project that sits within the top 50 coins in the crypto market. It goes toe to toe with LUNA, AVAX and MATIC due to their similar projects. However, some people have been investing in SOL simply because of its positive and bullish price movements since its inception in 2019. The Solana price prediction analysts called it that the price would soar higher than $100 before the end of 2021 and they got it right. As of 2021 alone, it has grossed from $1.50 in January 2021 to a massive all-time high of $259.90 in November 2021. Overall, it increased over 200 to 412% since the beginning of the year. As the project keeps growing with consistent success stories, SOL continues to make its investors stack up on good fortune while improving the overall stability of the blockchain ecosystem.
In mid-2019, SOL was worth less than a dollar. As of this writing, it is now worth $200. It hit the all-time high of $259 last November 6, 2021 and has been retracing ever since. Analysts predict that SOL is still going on an upward trend, given that the developers keep their activity consistent. 
The biggest bargain was last year when the token reached $1.03. If you have been holding it to this day, you have already gained 200% in profits. However, if you feel like you are late to the party, I suggest you wait for further consolidation in the charts. According to technical analysts, the substantial support area for SOL is $180 to $200, with a huge resistance within the $220 area. But, if you plan on holding it for the long term, you can forget about support and resistance. What matters is that Solana is a legitimate project that works beneficially for both the investors and everyone involved within the blockchain economy. 
If you had bought SOL during its all-time low of $0.5 in May 2020 and kept holding it, your investment return would be around 91,000%. This makes SOL arguably the  best performing crypto in 2021 alongside ADA, DOGE and ETH.
Solana Prediction 2021 - 2050
With the Solana price prediction based on its moves, SOL may end 2021 with around $270 to $300. As for years to come, the Solana price prediction for 2022 might just hit $600, $1200 in 2023, $2400 in 2024, and $5000 in 2025. Of course, these are just my predictions based on the market movement and the consecutive success stories of SOL. Remember that anything can happen within the world of cryptocurrency. One day your investment will skyrocket to 10,000% in 2 months or plummet 150%, depending on the current value of Bitcoin within the next ten years. 
As for the year 2050, it's all blurry to everyone, but given that if Bitcoin takes over the world by that time , Solana may hold a price of more than $70,000.  
Is SOL Bullish?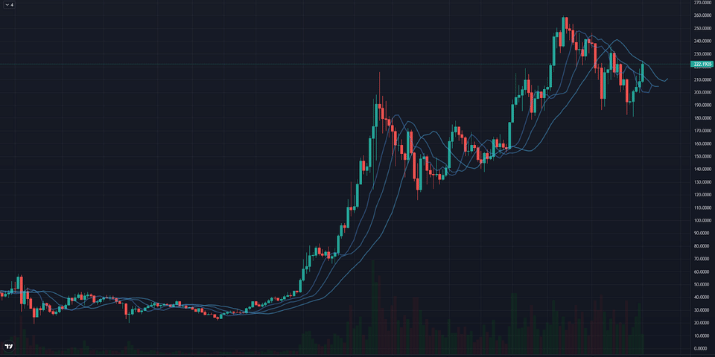 https://www.tradingview.com/chart/TMsvlNwI/?symbol=FTX%3ASOLUSD
Is it moving in a bullish pattern? Yes it is. However, if you plan on buying, I highly recommend waiting for the dip instead of buying at the top. After all, there's a saying that goes "all-time high, do not buy." That's like buying something you want at full price (or even at an inflated price). But if you wait for a couple of days or months, you might find a chance to buy it at a discounted price. This is an ideal move for both investors and traders. Or, if you would like a "safer" method, you can apply dollar-cost averaging - a method where you buy a little when it is at an inflated price and buy a lot when it is in the dip. 
Given that developers continue to progress Solana and its technology applying the real-use cases, investors will find themselves profitable for years to come. That is, of course, if Bitcoin is also on the bullish movement.
What Makes Solana Different from the Rest?
From a newbie's perspective, you would not think Solana bears any difference from other cryptos, right? Most cryptocurrencies all have their similar purpose of performing better than Bitcoin. Yet, even with this primary goal, each token carries its uniqueness as well. Case in point, the SOL token. Let's compare this to the competing technologies: Ethereum, Litecoin, Cardano, Terra, Polkadot, Avalanche, Cosmos and Polygon. 
Solana vs Ethereum (ETH)
Of course, we in the crypto niche know about the #2 tokens in the market: Ethereum. With a $557B market cap, Ethereum paved the way for the entirety of altcoins, creating the crypto market today. It works as the toughest competitor to Bitcoin and as the "powerhouse" of the altcoin network. Released in 2013 by Vitalik Buterin, Ethereum works as an alternative to Bitcoin, solving the most common problems including slow transaction speeds, high transaction fees and energy consumption from mining. As a result, tech investors want ETH after the technology shows its capabilities to create its own network of utility and security. 
ETH currency   is the catalyst that gave birth to digital assets including NFTs and dApps. Without it, we would never see decentralized video games, merchandise or the spread of DeFi tokens. Moreover, Ethereum has the most dynamic team of developers with monthly plans on making it more scalable and sufficient.
But, the gas fees remain a problem for transactions. This is where Solana - and the rest of its competition - swoop in to become the "Ethereum killer". 
Solana vs Litecoin (LTC)
Litecoin has been one of the old favorites in crypto since 2011. The LTC token has remained within the top 50 cryptocurrencies for over a decade based on market capitalization. As a result, it is widely considered as the "silver" to Bitcoin's gold. However, with more competition doing a better job than LTC, that statement might become obsolete for non-LTC shills. 
Here's what we said previously on our Litecoin summary:
"It has a faster rate of block generation and a swiffer transaction process compared to Bitcoin. LTC was valued at $4.30 in April 2013 and had the lowest price of $1.50. Today, its value ranges from $150 to $300. In May 2021, it hit an all-time high of $413.4 before immediately sinking to a low point of $103.8 last July 2021.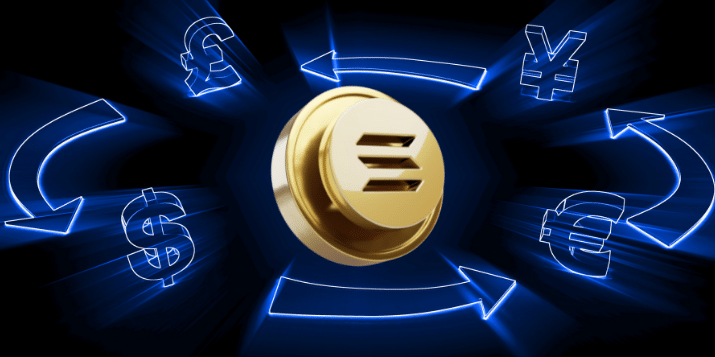 In other words, LTC is within the competition of cryptocurrencies, where it aims to have better smart contracts, the lowest gas fees possible and the fastest transaction confirmation time. It currently sits among the top 20 cryptocurrencies in the market. As of right now, the current market cap is around $14,900,000 with a maximum supply of 84,000,000 LTC."
However, other blockchain technologies outperform LTC these days, including SOL, ADA, and AVAX. Additionally, these three other cryptos overtook LTC as of 2021. 
The developers behind Litecoin plan to improve it so it can win back more investors.
Solana vs Cardano (ADA)
Cardano has become a heavy favorite among the crypto crowd since 2020. This is because of its "answer" to the ongoing gas fees and transfer rates from Bitcoin and Ethereum. Cardano mainly operates within a proof of stake (PoS) model which allows validators to check transactions based on the coins they hold. This form of transaction uses lesser energy than mining rigs, gaining the attention of pro-environment investors. Its fame peaked when it reached #3 in the top crypto market caps in mid-2021. Its proof-of-stake protocol called Ouroboros makes staking easier as well as better ROI. 
It peaked at $3 last September 2021, marking its all-time high. However, the coin has been consolidating to this day and has been in the $1.5 to $2 range as its trading area. 
For traders, ADA does not bid well for short-term buy-and-sell. The developers themselves ask their investors to keep their patience since they are working on improving their network. Even with such a consolidation, the 24h volume for the ADA coin remains positive with more than 100M in USDT. That means investors do not plan to go anywhere and are in it for the long-term ROI. 
Compared to Solana consistently fueling up for the next leap to the moon, Cardano has been taking a break. This also makes a good opportunity to buy until the devs finish their improvements. Some speculate the developers work their best to give Solana a run for their money.
Solana vs Terra (LUNA)
Terra is an ambitious project that aims to bring Decentralized Finance to the masses. It is a public blockchain protocol that deploys algorithms of decentralized stablecoins into a digital ecosystem. This in turn caught the attention of tech investors, making it one of the most successful tokens within the crypto market. It started at $0.65 in January 2021 and (as of this writing) has peaked at $60 on November 30, 2021. 
The Terra LUNA coin also ranks as #13 in the crypto market cap chart with more than $22B. So while it may not have a max supply, its purpose is helpful for the entire blockchain ecosystem. That said, its purpose makes Solana its direct competition.
Solana vs Polkadot (DOT) 
Coming in at #9 in the crypto market cap list with $36B, Polkadot is one of the first cross-chain networks within the Ethereum blockchain. The DOT token started rising in November 2020 at $4. 12 months later, it reached an all-time high of $55. While it is more in comparison with Cardano and Cosmos, Polkadot also shares some similarities with Solana - namely its PoS and empowerment of decentralized stablecoins. 
The Polkadot currency, DOT , has consistently performed every month, giving traders clear buy and sell signals. Yet, the investors stay loyal to the project as the volume constantly revolves around 100M to 700M on average. 
Solana vs Avalanche (AVAX)
AVAX ranks at #11 in the crypto market cap with $28B. Avalanche launched just last year 2020 as a platform for smart contracts. Just like SOL, ADA, and LTC, it aims to do faster transactions with minimal fees versus Ethereum's standards. It uses a cluster of "subnets": custom blockchains that provide security for both private and public blockchains within the Avalanche platform. Similar to Cardano, Avalanche also uses a proof of stake (PoS) model. 
It started off at $3 in January 2021 and peaked at $147 in November 2021. As of this writing, AVAX continues on an uptrend. Investors and financial advisors have been in a debate whether AVAX truly works better than Ethereum (or other blockchain technologies) or if it was just a coincidence that more investors bought in during " the right news at the right time ", according to Bitwise Chief Asset Manager Matt Hougan, seeing that it launched an uptrend ever since the start of another bullish market on July 22. 
Solana vs Cosmos (ATOM)
Started in 2016, Cosmos works as a cross-blockchain project that aims to create a blockchain-powered internet. The Cosmos Hub is the first cross-chain hub created and ATOM is its native staking token . Stakers use the hub to prevent spam and use staking features like dividends and community management voting. It ranks at #37 in the crypto leaderboard with a $6B market cap without a maximum supply. 
What made it stand out in 2021 was its performance during the September crash following the El Salvador adoption   and the infamous Evergreen collapse . It peaked at $44 that month but went into a consolidation phase, with a zone of $24 to $32. Overall, its market movement is quite the mix-up and runs loosely independently of Bitcoin's charts. 
Fundamentally speaking, Cosmos works similarly to Solana: faster transactions with low fees and scalable technology. However, with the sudden impact of Solana using speedier transfer rates with evidence to show it, Cosmos began losing its investors. Yet, those that do stay keep believing that the Cosmos Hub will become a priority in a blockchain-powered internet in the future. 
Solana vs Polygon (MATIC) 
Last on our list is Polygon. Polygon backs up Ethereum and its forked blockchains to create a web of multi chains. Claimed as a project "built by developers, for developers", Polygon aims to unite other legitimate blockchains including Polkadot, Cosmos and Avalanche. You can consider this as a "support" project that helps other projects. The developers claim Polygon as a more open yet secured system that utilizes the Ethereum network. It solves common problems of developers through convenience. This includes one-click deployment of premade networks within the blockchain and "security as a service". 
Because of this purpose, the Polygon token - MATIC - is one of the most successful ROIs since the beginning of 2021. MATIC started off at just $0.017 and reached a peak of $2.7 last May. It recently pumped again in October 2021 from $1.1 to $2.220. 
Unlike AND like Solana, Polygon directly supports the blockchain developers but with a similarly scalable system to expand its market cap despite its maximum supply of 10B. It ranks at #18 in the crypto market cap with $13.5B.
Should You Buy Solana?
If you truly believe in the power of blockchain technology shaping the future of economics, then you should consider Solana. I'm not saying spend all your money on it because it is guaranteed to make you a millionaire early or because you solely followed our Solana price prediction and analysis. Whether a cryptocurrency has a real-use case like SOL or nothing but a meme coin like SHIBA or the fan-favorite DOGE currency , you must ALWAYS consider the risks. After all, cryptocurrency is highly volatile and unstable, so only spend what you are willing to lose .
From a technical and fundamental point of view, Solana looks promising and it surely lives up to its promises as a scalable technology that empowers dApps, DeFi tokens and the Ethereum network. If you consider taking a leap to buy SOL, you may want to wait for a dip for a good discount. But, if you plan to "set and forget", you can buy now and return to your crypto platform 5 to 10 years from now. It all depends on when you want to buy but know that the project continues to surge . Just don't say I didn't warn you. I'll update this next year with The Top Coins' Solana price prediction 2022. 
Leave a Reply