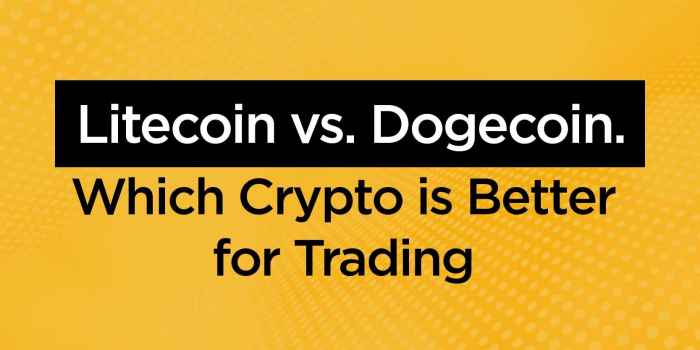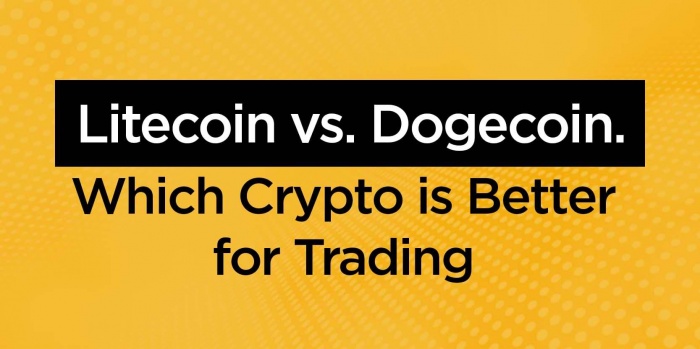 Litecoin vs. Dogecoin. Which Crypto is Better for Trading
Reading Time: 8 minutes
The crypto market has been on a rollercoaster ride in the past few weeks, with Bitcoin, Ethereum, and Ripple all seeing major spikes and drops. Litecoin trading saw an increase alongside Ethereum, but many have wondered if it is worth investing in as it is much less popular than bitcoin or ethereum. 
Dogecoin has also seen its fair share of ups and downs during this period, though the coin, which started as a joke currency, has maintained value throughout most of these fluctuations. Which one should you invest in? Read on for more information.
Dogecoin vs Litecoin: Similarities
Litecoins and Dogecoins are both cryptocurrencies that follow Bitcoin's model. They share a decentralized network based on the blockchain of Bitcoin itself. These two currencies have digital security features with end-to-end encryption to secure transactions for buyers and sellers worldwide without requiring any government intervention or regulation.
Both offer fast transaction speeds. They're way faster than Bitcoin (BTC) currency and are widely accepted among exchanges worldwide. Litecoin (LTC) currency is the most technologically advanced cryptocurrency on the market. 
It can process 56 transactions per second. DOGE's implementation of SCRYPT is what enables it to process transactions more quickly than Bitcoin. It can verify transactions, prevent double-spending attempts through its process, and secure access for sending or receiving money without intermediaries. Litecoin can be used in retail markets also.
Dogecoin vs. Litecoin: Differences
The Litecoin crypto developers conceived and launched it as an analog of Bitcoin, which will complement it in the future. Litecoin is a virtual currency on the blockchain created by Charlie Lee in 2011. Litecoin, like Bitcoin, runs as an open-source payment network without any central authority and has several differences from its predecessor, including faster block generation times and more efficient mining procedures.
But what is Dogecoin? Dogecoin (DOGE) currency was created to be more accessible for people worldwide while still being a viable currency with its own unique identity. In December 2013, Dogecoin was launched with the image of a Shiba Inu dog as its logo. Unbeknownst to many people who created it for seemingly comedic purposes, this cryptocurrency has an underlying technology that is derived from Litecoin and notable features like the low price and unlimited supply.
The DOGE coin is a more efficient cryptocurrency with faster block generation and a shorter confirmation time. Compared to Litecoin, the cost per coin for DOGE is much lower. Still, it has been receiving greater support from investors and developers in recent weeks due to its efficiency-oriented design.
Other differences between DOGE and LTC:
Social Media Engagement: With a huge following among the Internet community and an accessible mining process, Dogecoin has become one of the most popular cryptocurrencies in history. Monitoring the feeds and chats of DOGE holders alerts you to get a sense of where prices are headed. You can learn from conversations about future price spikes that may be on their way, as well.

Upper Limits: Litecoin has 84 million limits on the number of currency units available. You won't have to worry about inflation with Litecoin because its supply is capped at a finite amount. It will be easier for investors to find profitable investments without competition from other cryptocurrencies like Dogecoins unlimited supply.

Reliability: The Litecoin network is overseen by Charlie Lee, who was formerly employed at Google. It brings a sense of reliability to the system because it has been designed and developed with care for its users as well as being transparent through social media channels like Twitter. In contrast, Dogecoin has endured the ups and downs of various cryptocurrency markets. It is based on a comedic meme that should not hamper this coin's ability to rise above other coins which have come before it.
LTC vs. Doge: Which one is a better investment?
Before you invest in Litecoin, do not forget to consider the risk-reward factor. So with all things considered, such as the pros and cons of investing in LTC, it's time to answer another question "Do potential profit dominate the risk?"
LTC Trading has been around since 2011, and while it may not have the hype of Bitcoin or Ethereum in recent years, its price is a great way to get into this emerging market.
Despite being the fourth largest digital asset globally, Dogecoin trading has a long way to go before it can command prices similar to its main market rivals. It's also not nearly as frequently used for transactions compared with other cryptocurrencies such as Bitcoin and Litecoin.
Though Dogecoin is risky, it has the potential to make you rich with its rewards. But before you invest in this cryptocurrency and risk your hard-earned money on something that could turn around as quick as a dog chasing his tail, take some time out for research first!
Latest Trends: What is it about? 
As the economy becomes more volatile, Litecoin price predictions 2021-2025 indicate that it could remain around $150 during the first quarter of 2021 and rise to a new peak of $260 in January 2022, then slowly glide back to lower levels. 
The original idea for SegWit was first proposed in 2015 by a group of Bitcoin developers. It works by "segregating" the digital signal data (the "witness") outside the base block in a blockchain, but this proposal created deep controversy within the bitcoin community. 
In 2017, Litecoin adopted SegWit. The test was a success because of the similarities between Bitcoin and Litecoin. This made it easier to implement changes on the larger Bitcoin network to address scalability issues.
If AltCoin closes this year and hits its high point of 2019 as expected by many analysts; it is anticipated to take off for 2020 into 2022 with predictions ranging from USD 0 .69-1 per unit, which would represent increased trading activity on both ends of trades (buying/selling).
Elon Musk's FOMO may be driving the price of Dogecoin to new highs in five years. Additionally, should DOGE survive with a strong growth rate in becoming an increasingly competitive space over time, it could easily reach $5 by 2020 and beyond.
Final Thoughts
Litecoin and Dogecoin both have their own merits, but the most important thing is that they are still very profitable for traders. The two coins offer different opportunities in terms of investments, but there's no reason not to invest in them both. With the current state of cryptocurrencies, it may be hard to decide which one is best for you. 
Litecoin and Dogecoin have pros and cons, so there's no clear winner in this race yet. There are many factors to consider when deciding on cryptocurrency investment, including how much money you want to invest, your risk tolerance level, what type of investor you see yourself being (long-term or short-term), and future updates that will affect the price of these coins. 
Leave a Reply