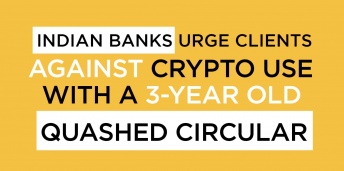 Indian Banks Urge Clients Against Crypto Use With a 3-Year Old Quashed Circular
India's bittersweet affair with cryptocurrency began in 2018 when the Reserve Bank of India (RBI) moved to ban banks from supporting cryptocurrency transactions. This announcement came after multiple fraudulent cases tied to crypto were reported, but the Supreme Court shut down the appeal in March 2020.
In March of 2021, at the height of the boom-and-bust cycle when coins shot to their peaks before a massive sell-off, the Indian government began talks about tightening cryptocurrency regulations with the possibility of a full-scale ban. There are two possible reasons for the authorities' concerns. One, they don't want individuals to own power over actual currency. And two, the volatility of coin prices makes them difficult to use in real-world transactions. However, no final decision has been made concerning the issue, and no cryptocurrency law has been passed since the announcement. 
Indian Crypto Holders Receive Emails
The most recent Indian crypto news has spotlighted an incident wherein local banks, from HDFC Bank to State Bank of India, kicked off an email rally, targeting clients with a record of cryptocurrency-related transactions on their accounts. Affected individuals took to Twitter to disclose the content of the emails, which state that virtual currency transactions are not permitted "as per RBI guidelines." 
The notification advised that if bank clients wish to carry on with crypto transactions, they should stop doing so and immediately consult with banks or risk termination of services if any violations are found upon investigation.
The RBI's circular from 2018 had previously barred "services and dealing in virtual currencies" by entities regulated by it, including banks. However, following a Supreme Court hearing last year, which quashed the ban regarding crypto adoption, banks now no longer have the legal authority to disallow clients from making coin-related transactions. As such, many believe that the independent action done by banks was a form of harassment.
The RBI was silent about the issue before finally addressing the public on May 31, clarifying that the circular had been revoked by the Supreme Court on March 4, 2020. With this crypto report, banks are expected to stop sending emails citing outdated guidelines.
Regulatory Uncertainty
While clients can now be confident that banks won't interfere with their cryptocurrency trading activities, financial institutions are still allowed to approach the 2018 circular's concerns through different means. This includes governing standards against money laundering, which remains a rampant issue in the country and is often connected with the anonymity of crypto transactions.
Moreover, despite clarity from the RBI regarding the legality of crypto trading, the government is reportedly in the process of drafting "The Cryptocurrency and Regulation of Official Digital Currency Bill, 2021," which is expected to bring regulations to the current freeform virtual economy. This move was hinted at in mid-March this year when India began voicing stronger concerns against coin use. 
It's not the only country in the middle of a crypto regulation battle. The latest crypto news from China indicates a similar, uncertain future for digital currency enthusiasts. Vice Premier Liu He ordered stricter crackdowns on mining and trading, forcing some of the most influential players—from mining pools to rig manufacturers—to fold, lest they risk arrests. Independent miners are also looking into overseas operations—a scenario that may very well enter India if the cryptocurrency bill were to become a reality.
Final Thoughts
For Indians, the future of cryptocurrency ownership remains uncertain, putting them at high risk for long-term HODLing. While there are no strict regulations that could limit their current activities, investors will likely be treading more carefully amid the watchful eyes of authorities. If the bill were to come to life, along with China's major moves against virtual coins, then there's a possibility for others to follow. And the market may take a huge hit—unless creative investors find loopholes out of the system.
In the meantime, crypto-enthusiasts will have to deal with both a waning market and regulatory uncertainty. And while there may be no clear indication of what's coming next for cryptocurrencies in India, it seems like Indian lawmakers are at least on their way toward further clarity.
Leave a Reply