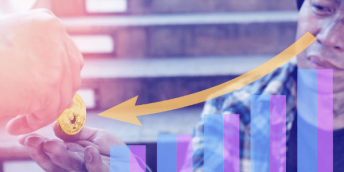 Expect a Dip in Bitcoins Price Very Soon
Recently, Bitcoin has been touted as the best asset of 2020 with it beating Gold, Silver, and the US dollar in terms of growth. It is set to have a fantastic 2021 and the hype is very much alive.
Within the next week though, there will be a slight drop in Bitcoins price.
Don't be fooled, this doesn't mean that the bull market is over and that Bitcoin is about to drop down once again. This is just what happens during a bull period and has been predicted already. Many experts said weeks ago that we could expect a drop due to the sheer amount of buying that was going on.
How much buying has been done?
According to a Twitter user, Willy Woo, who conducts blockchain and market analysis - we just had the largest buying day in the history of Bitcoin. This means that there should be a period of no buying which will cause the price to drop slightly. This is not the end of the story though, as Willy Woo went on to say that the number of new wallets that were seen holding Bitcoin were unprecedented.
More people than ever are getting in Bitcoin. It is not just a few people buying large amounts. It seems more individuals have been buying and holding Bitcoins than before. Willy Woo also predicted a small dip in price before the price surge would continue.
The last time we saw this kind of buying was in October of 2017, which was a month before Bitcoin entered its most profitable stage. So the same thing could be happening here. More people have seen this and want to get in on it early.
For those who may have bought Bitcoin during this time and have seen the price drop, do not panic.  This does not mean it is about to plummet. Do not start selling yet as within the next few weeks, the price will readjust and continue to rise. Many experts have said the potential of Bitcoins price has not been reached and we could see it shoot past its record high of $20,000 USD soon.
Bitcoins price today is $20,448 AUD
We have to remember that there is a big future for Bitcoin as many large companies are investing in it and making it a big part of their provided services. PayPal is allowing users to buy, store and sell Bitcoin. Visa is also creating a debit card which will enable people to pay for real-world items such as petrol and food with their Bitcoin.
This blog is to dispel any worries that people will have over this price drop and reassure them that the bull market will return soon, and the price will continue to grow.
To keep up to date with Bitcoins price and see it grow, click here and use our crypto tracker. Also check out other blog posts about Bitcoin, such as Bitcoin Mining in 2020: How Does it Work?
Leave a Reply