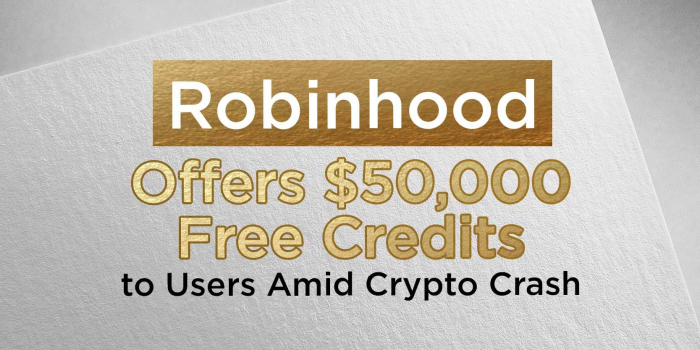 Robinhood Offers $50,000 Free Credits to Users Amid Crypto Crash
The cryptocurrency market was on a roll for the first few months of 2021. Altcoins particularly garnered massive gains of up to 31,000%, driving the market into a frenzy for the next Bitcoin (BTC) crypto—which also struck new highs at $64,000 in mid-April.
Elon Musk was one of the biggest catalysts for the market's boom, as his series of tweets in March alluded to supporting Bitcoin, which subsequently rallied upward quickly. Afterwhich, he shifted interests to Dogecoin cryptocurrency, causing a frenzy for meme coins and elevating runner-ups like SHIBA INU (SHIB) and Mona Coin (MONA). Dogecoin millionaires filled the headlines. All was well, and for the first time, most of the world was talking about cryptocurrency.
And then Musk changed his mind, promptly removing the BTC payment from Tesla less than two months after the roll-out. And then China announced that it would be cracking down on cryptocurrency. And just as quickly as it rose, the crypto-high faded, causing a spiral of panic sellers to relieve themselves of digital currencies. Amid BTC's fall to $38,000 and Ethereum's rewind to $2,700, the market was dry, and the market's daily trading volume decreased. Trading platforms like Robinhood and Coinbase were naturally concerned.
What is Robinhood?
Robinhood is one of the most popular trading platforms that cater to stocks and cryptocurrencies. It was founded in 2013 with an underlying value proposition of commission-free trading, drawing in young professionals who are new to the world of investments. 
The platform is an app that can be downloaded on a smartphone and works as both a cryptocurrency exchange and trading platform for stocks. The only fee required when making trades on the app is the federal security transaction tax, with an average value of 0. However, Robinhood is only viable for newcomers trading with small amounts of money. Experienced traders will find that the platform's simplicity is too barebones, and the notorious downtimes during peak trading seasons can be a turn-off to users looking to make a major arbitrage profit.
Trading Cryptocurrency on Robinhood
Robinhood implemented a cryptocurrency exchange feature in 2018, allowing users to buy, sell, and hold a handful of popular coins, including BTC, ETH, and LTC currency. Like its stock trading facet, Robinhood crypto trading is commission-free, compared to its main competitor, Coinbase, which charges a fee of 0.25% on all trades. This benefit, alongside instant trades, makes the crypto exchange the second most popular service on the platform.
The downsides of Robinhood's crypto features include the lack of high-level functions, making it useful only for beginners. You can't play with different types of orders (i.e., limit, market) as your only option is a stop order; furthermore, Robinhood doesn't offer margin trading or shortening for cryptocurrencies. The platform also holds all private keys and doesn't allow crypto withdrawals (they first need to be converted to fiat), which can be a security risk, as you're relying on the company to keep your funds safe. As a result, it's an ideal app for selling but not holding.
The Robinhood Challenge
On May 20, Robinhood took to Twitter with a $50,000 giveaway. The effort was likely a response to the recent crypto crash, which had dwindled interest and trading volumes in the platform. In a tweet, Robinhood offered each responder a free $5 in inventory just by naming their stock of choice. Afterwhich, the corporate promised to credit the value to accounts until the $50,000 is maxed out within the timeframe. The move enticed investors and brought life to the gloomy trading landscape, successfully energising the market.
Despite the limitations of the Robinhood app, it's hard to deny that it has successfully brought investment opportunities to the younger generation. And its cryptocurrency-loving user base hasn't given up, despite the busted coin market. One of Change.org's most popular petitions involves bringing meme coin SHIB to Robinhood, and other trading apps are constantly trying to rival its success. It's only a matter of time before the platform implements greater features for long-time, seasoned traders.
Leave a Reply