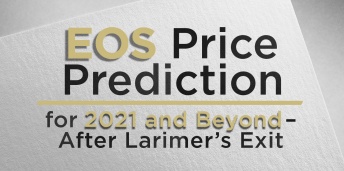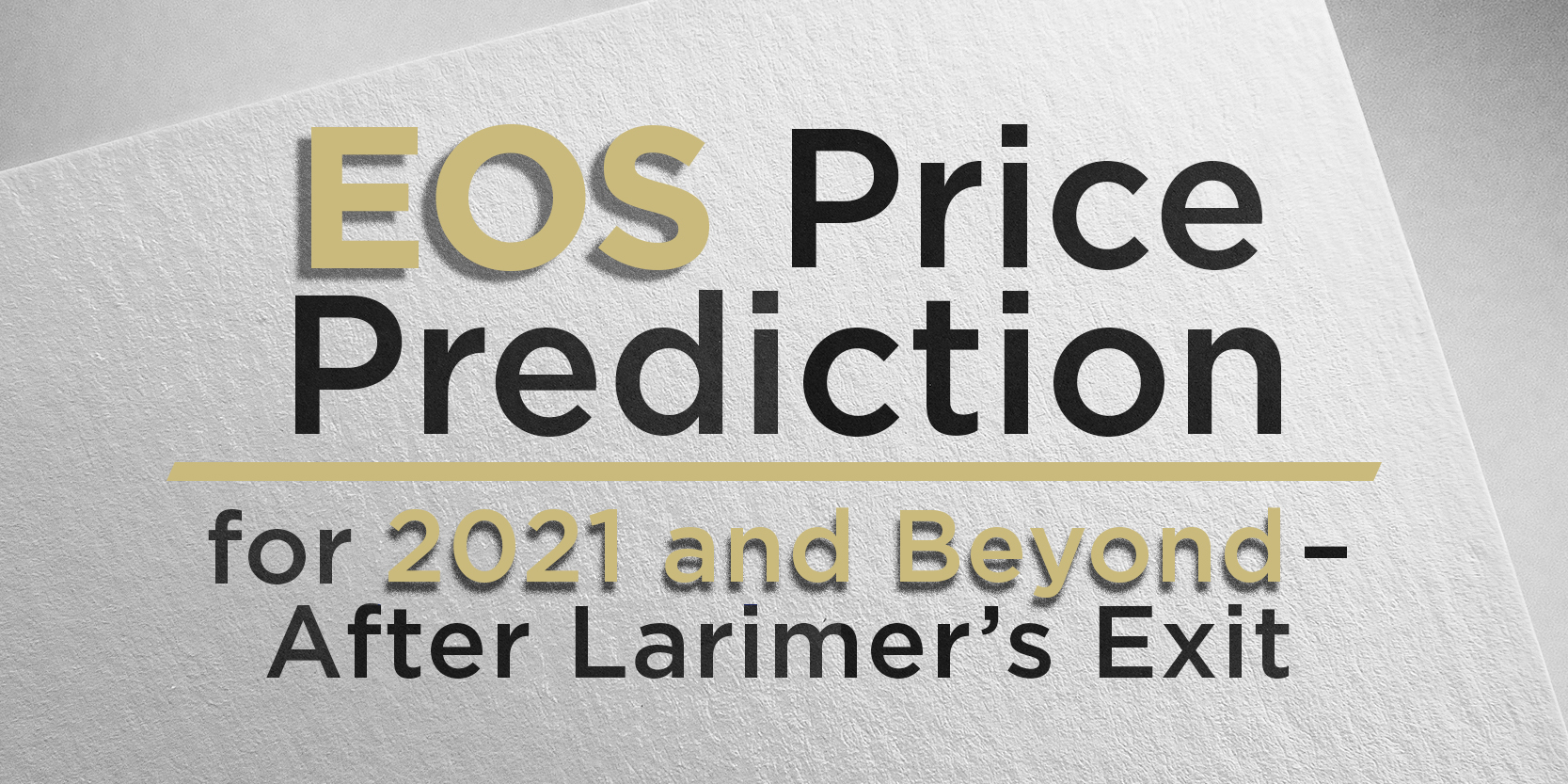 EOS Price Prediction for 2021 and Beyond–After Larimer's Exit
Reading Time: 21 minutes
In the past week, Block one's Chief Technology Officer (CTO), Dan Larimer, announced his departure from the company. His decision was driven primarily by online censorship restrictions, which may be connected to Twitter's Donald Trump ban, prompting his leave from social media as well. Block.one is the company behind the EOS blockchain software, and Larimer has made plenty of groundbreaking achievements to gain investors' trust in the cryptocurrency. 
For one, Larimer was the brain behind the Delegated Proof-of-Stake (DPoS) consensus model behind the EOS blockchain. It's an innovative algorithm that solves the transaction speed issue that cryptocurrency frontrunners, Bitcoin and Ethereum, are still unable to conquer. 
Less than a day after the announcement of Larimer's resignation, EOS prices plummeted by approximately 30% from its $3.8 high to the $2.9 range. Now, it's trading between a 24-hour $2.7 low to a $2.8 high. Since the news broke out last week, prices haven't recovered to its bullish value. This is bad news for the coin, as it's a sign that investors are losing trust in EOS and are moving onto more lucrative and promising options. 
But how does this failure scale in EOS's future? And how does it change the initial EOS price prediction for 2021 and the coming years? 
An Introduction to EOS 
The EOS digital currency was founded in 2017 by Daniel Larimer, who was connected to Block.one, a company based in the Cayman Islands. Its goal is to become the biggest and most scalable smart contract blockchain network worldwide. If this value proposition sounds familiar, it's because EOS is essentially a spinoff of Ethereum, but addresses many of the latter's flaws.  
EOS allows anyone to run decentralized applications (DApps) through its smart contract platform, EOS.IO. You need to stake EOS tokens to create DApps, but running them on the platform is free-of-charge. This process runs in conjunction with a unique token system, a subset of Ethereum's Proof-of-Stake (PoS) model. Larimer spearheaded the Delegated Proof-of-Stake (DPoS) protocol, which operates through a democratic election system.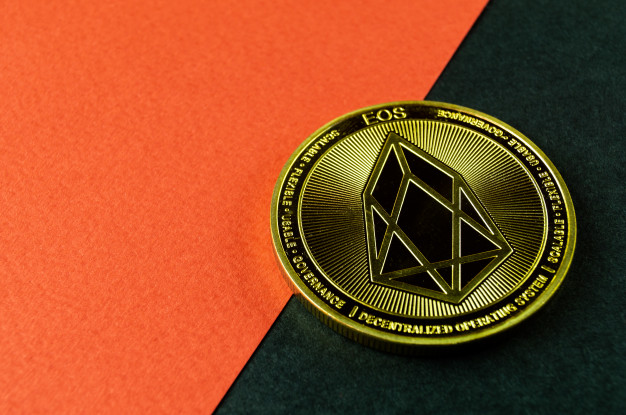 How Does the EOS Blockchain Work? 
Unlike the traditional PoS where everyone has to put up a stake, EOS's unique DPoS model elects a select number of delegates in charge of verifying transactions, fees, and general blockchain management. It greatly increases the speed per transaction as only a small number of people are clogging up the network. 
Everyone can stake a certain number of coins to the EOS blockchain. But rather than giving you cryptocurrency mining power, a higher-value stake offers more voting power, which will give your preferred delegate a better chance at being chosen. In total, there are 21 delegates, 20 of which are chosen through votes. The last one is chosen by the system randomly. 
Delegates are in charge of creating new blocks, maintaining the existing network, processing and validating transactions, and protecting the blockchain's integrity. The DPoS system is heavily-reliant on consensus, so even delegates would have to reach a majority agreement to allow any form of data to enter the network. 
Traditional cryptocurrency enthusiasts have criticized this technology for not being decentralized enough. But having a limited number of computers process transactions is a common move among newer altcoins. For example, Dash employs 5,000 masternodes that occupy a second network layer, which helps speed up the transaction processing time worldwide. 
A smaller pool of more robust systems prevents the network from waiting on thousands of miners, which drives Bitcoin and Ethereum's speed issue. EOS can process over 1,000 transactions per second, while Ethereum can only handle 10-20. 
What Affects the Price Prediction for EOS? 
The EOS price prediction today and the EOS future price prediction are driven by the current and upcoming news surrounding the cryptocurrency. The explosive Bitcoin bear market at the start of the year attracted both high-profile and ordinary individuals. It benefitted not only BTC but also the cryptocurrency market as a whole. 
At the end of 2020, EOS prices were at a humble $2.58 but rose to a $3.83 peak within 10 days–all from riding Bitcoin's bullish wave. While Dan Larimer's resignation put an unfortunate halt to this progress, it's clear that the overall adoption and acceptance of cryptocurrency will affect the value of EOS in the future. 
The demand for coins notoriously increases whenever: 
A major market (such as China) finds a sudden interest in a coin.  

The company backing a coin can make large-scale partnerships with institutions that can ease mass adoption. For instance, Dash was able to secure a place in 11,000 ATMs in Mexico, which will increase DASH usage due to availability and convenience. 

The media focuses on a particular coin and paints a positive story about it. EOS learned this lesson the hard way when news of Larimer's leave from Block.one sparked a massive plummet in prices. If the news had instead been a positive one, EOS prices would have more than likely increased. 
What the three points have in common is community involvement. When people are interested in a coin, they'll likely decide to purchase some as an investment or join in on the trend. This action will increase the demand for a coin, which will, in turn, increase its market cap and daily transaction value. 
What's Happening to the Cryptocurrency Market? 
While EOS's sharp drop in price is theoretically enough to send warning signals to investors, it's important to know that Larimer's leave wasn't the only driving factor for this event. Around the same time as his resignation last week, the entire cryptocurrency market's major bull run took a turn for the worse, and prices stopped compounding by the hundreds and thousands every 24 hours. 
Bitcoin (BTC) enjoyed an over-$40,000 price tag on January 10, but prices plummeted to a downward trend the day after. On January 12, BTC went down to $30,525. The same day, EOS saw this month's all-time low of $2.41. It's common for altcoins to follow after Bitcoin's price patterns, so the timing of Larimer's resignation could have just been an additional signal flare for an expected price drop. But while Bitcoin recovered to the over-$39,000 mark, EOS has been unable to return to its peak all week, sitting at a conservative $2.8. 
Dan Larimer's leave had prompted many investors in the community to sell their stash in a hurry. It's expected for EOS prices to stagnate while Block.one remains on the negative headlines. Given how people's interest is dependent on news from the mainstream media, the company would have to come up with some good news or major positive developments to bounce back from the fall. 
EOS Current Price Analysis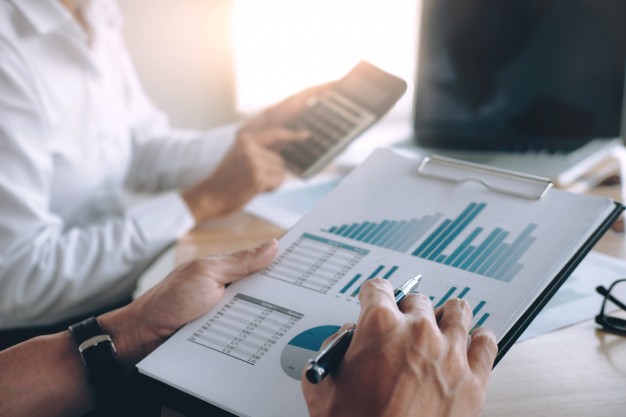 Despite its recent flunk, EOS has remained rank 16 in terms of market capitalization, with a share of $2,502,571,932. Outside of this year's January bear market and volatile end-of-year spikes led by Bitcoin, EOS prices have remained stable over the past three years.
The chart below shows that there have been no major changes outside of the 2018 to 2019 drop. But even that decrease in value was because EOS transitioned from being a new coin to one that needed to prove itself to retain its place. When a promising altcoin is released, its price usually spikes up due to a media and community-led interest among enthusiasts. Most fail to expand that interest enough for their value to go up, hence the downward trend over a short period. 
| | | | | |
| --- | --- | --- | --- | --- |
| | Open | High | Low | Close |
| Jan 1 2021 | $2.60 | $2.73 | $2.58 | $2.64 |
| Jan 1 2020 | $2.58 | $2.63 | $2.57 | $2.60 |
| Jan 1 2019 | $2.57 | $2.67 | $2.53 | $2.66 |
| Jan 1 2018 | $8.77 | $9.11 | $8.51 | $8.84 |
EOS Price History 
EOS first appeared in the coin marketplace on July 1, 2017. It was listed for $1.20. Within two days, it saw a 357% increase to $5.48, signaling the first wave of interest. But its value only started to go down from that point on, reaching an all-time low of $0.48 by October. Two months later, it was able to gain traction and make it to the $12 mark. 
EOS reached its all-time high of $22.89, shortly after its parent company, Block.one, made headlines for raising $4 billion without a live product. The positive media coverage brought massive interest for the coin and was the catalyst for its biggest bull run yet. But its price didn't hold for long. It had dropped by over 50% within a month, and by December of 2018, EOS was back to its under-$3 streak. It would go up and down in value over the next few years, reaching $4 or $5 milestones at some points, but would eventually settle in the $2.5 mark again.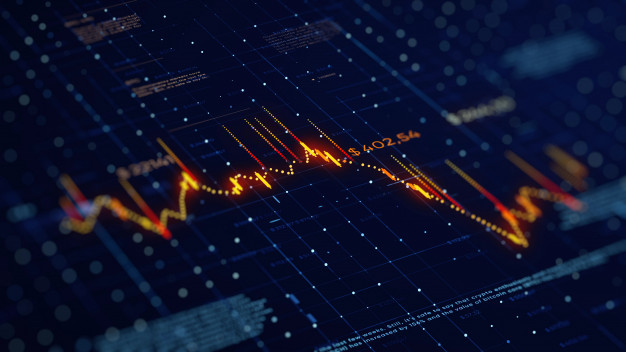 EOS Price Prediction Trading Beasts: 2021, 2022, 2023 
Trading Beasts is known to stick to the more conservative side of the spectrum, and following their end-of-2021 prediction, EOS is likely to hold an average price of $2.76 by December. In the best scenario, they predict that prices may peak at $3.5. In 2022, their EOS coin price prediction forecasts that it can reach anywhere between $3 to $4.3. In 2023, EOS may see brighter days with a $3.7 to $5.46 prediction. 
EOS Price Prediction PrimeXBT: 2021, 2022, 2023+
PrimeXBT's analysis is based on EOS's historical symmetrical triangle trading pattern. That means prices tend to spike before falling back down to a value close to its pre-spike point. The coin would have to bank on a powerful rise to break out of its usual low range. PrimeXBT predicts that EOS has potential for another bullish run at the end of the bear market and may reach the $15 mark by 2021 or 2022. In the long term, they see EOS prices going up and down in larger spurts, and may see a $500 value from 2023 to 2025. 
EOS Price Prediction Coinswitch: 2021, 2022, 2023+ 
Coinswitch sees EOS as a wonderful catalyst for developers to build decentralized applications. Because of its relevance in the tech and finance spheres, they see the coin's potential to reach the $15 mark by 2021. Looking ahead, they forecast an optimistic increase to $106 by 2025 due to EOS's platform usability and relevance in the future. 
Summary of EOS Price Predictions
EOS's future depends on how relevant decentralized applications become in the future and whether it successfully becomes the preferred development platform. On the conservative end, it will stay in the same $2.76 range by end-of-year. But optimistically, it may touch the sweet two-digit point at $15. 
Investors are paying attention to EOS due to its relevance. Now, its challenge is to future-proof that interest by improving the EOS.IO platform, improving its staking system, and proving its decentralization and usability as currency.
EOS Questions and Answers

Is EOS Decentralized? 
EOS markets itself as a decentralized blockchain, but it has come under fire on numerous occasions as some critics believe that it isn't decentralized enough to meet industry standards. The main reason is that the DPoS system only allows 21 delegates, or block producers (BP), to process transactions. While there's a democratic voting system to elect delegates, only those who receive the highest stakes will successfully become a BP. 
Inactive community members, vote-buying, and incentives for becoming BP are all part of the EOS election package–a mirror of democracy that hits a little too close to the offline world. If power is saturated to a small section of the community, then it doesn't embrace the spirit of decentralization. 
The EOS coin distribution isn't equal in the sense that too few people own too many coins. If these people continue to vote for the same BPs, it's unlikely for the rotation to change–even after multiple staking (another name for the voting process) sessions. Moreover, there are too few incentives for token holders to vote, so many hold onto their assets instead of staking them away. Just like a real-life election, the same problems pop up in EOS's system. So the chances for a random person new to the community to get votes is slim and highly unlikely. 
How Much Does an EOS BP Earn? 
EOS is a blockchain that uses inflation rate to pay for its network. Out of the 5% inflation rate, 1% goes toward BP pay. It's further split up–25% goes to active BPs, and 75% goes to standby BPs based on vote percentage. 
The 21 active BPs are part of the pool entitled to receive a portion of the 75% based on vote percentage. For instance, if the 75% value equals 10,000 coins, then a top BP who receives 10% of the votes will receive 1,000 coins on top of their pay per day. The official value isn't disclosed, but BPs are assumed to receive a relatively large number of EOS per day.
What Are EOS Smart Contracts? 
Smart contracts are automated digital contracts that are stored inside a blockchain. All the terms and conditions programmed into the smart contract will apply when the right conditions are met. They can't be edited or tampered, making them ideal for mediating transactions online or creating decentralized applications. 
For example, in a real-world scenario, it can be difficult to trust an online seller to ship your products, especially if you pay before delivery. In this case, a smart contract can be programmed so that the payment is completed before delivery, but will be withheld from the seller until you receive the product. The system handles the entire process automatically, without a person or organization controlling the actions in-between. 
Removing the Middlemen Has Plenty of Benefits, Including: 
Decentralization–the process is not being controlled by a single entity

Speed 

Security 

Trust 
Likewise, smart contracts can be programmed to perform countless other "if-then" actions in the online sphere. They're the foundation of trust between two or more parties and are crucial for business transactions–just like physical contracts. Like Ethereum, EOS is backed by the EOS.IO platform, allowing programmers to write smart contracts and build decentralized applications. 
How Do EOS Decentralized Applications Work?
Decentralized applications, or DApps, are open-source programs that can be created through the EOS.IO platform. It requires programmers to stake EOS tokens in exchange for network and CPU bandwidth, which are power sources required to develop DApps. 
These are temporarily consumed every time a user performs an action or transaction, and are calculated every three days. But the tokens don't disappear from the network. When the bandwidth frees up over time, you can unstake and restake the tokens in exchange for bandwidth again. Staking is necessary for the network to be able to process transactions. Without it, programmers won't be able to develop DApps. 
DApps use open-source codes, which means that they're available to the public. The code is open to scribble or for the public to verify that it's working as intended. Changes are only made once the developer and users have come into an agreement. 
Because they're fully decentralized, DApps offer the following benefits: 
Transparency 

Trust 

Ability to eliminate middlemen in transactional functions
Think of it this way: with a DApp run with smart contracts, programmers can create platforms where transactions don't go through a layer of third-party verification. If you're donating to charity, the only parties involved are you and the charity–no banks or other institutions in-between. 
Is EOS a Good Investment? 
While Larimer's leave has affected EOS's prices, it's only the beginning of the year, which means that Block.one has plenty of time to regain investors' trust. Prices aren't expected to rebound until then. For now, it's a waiting game for good news, and it's not advisable to invest until then. 
Investors are currently watching out for announcements for Block.one's new CTO, who will be replacing Larimer's post and will be in charge of new blockchain and other software projects. An announcement of favourable future projects may also determine what direction EOS's prices will go. 
Is EOS Better Than Ethereum? 
EOS has a similar value proposition to Ethereum–both are platforms where developers can create decentralized applications. But EOS's DPoS system allows it to process over 1,000 transactions per second. It's planning to raise the bar to the millions, making it significantly more scalable than Ethereum. 
While scalability isn't the only factor determining a coin's worth, it's one of the biggest challenges faced by frontrunners on the market. If a coin is unable to scale to global demand, mass adoption won't be possible, and there would be no point in the existence of cryptocurrency as an alternative peer-to-peer digital currency. 
But Ethereum still beats EOS in other aspects, including decentralization. Some critics believe that the DPoS model isn't decentralized enough due to the politics behind having only 21 delegates or block producers. In contrast, Ethereum's PoS consensus model gives everyone a chance to process transactions. It's also in the process of solving security issues that may give it a better transaction speed. 
Both EOS and Ethereum have their ups and downs. The better of the two depends on what aspect of cryptocurrency is non-negotiable to you: scalability or decentralization. 
Will EOS Rise Again in 2021? 
The year took off with bad news about Larimer's leave from Block.one. But there's still a huge opportunity for EOS to turn the tables and go back up in value. Most predictions believe that it can rebound with up to a $15 price hike. 
On the conservative end of the spectrum, if EOS doesn't recover in 2021, it might be able to do so in 2022 and beyond. Its recovery might be slow, but an ever-increasing interest in cryptocurrency and decentralized applications can prove critical for the coin to grow. 
Does EOS Have a Future? 
EOS has always retained its position in the top 20 coins. While it has fallen to the 16th place at the beginning of 2021, it's still actively developing new projects. In October of 2020, Block.one introduced EOS.IO for businesses, signaling its penetration into the corporate world. 
Will EOS Reach $1,000? 
Given the current news surrounding EOS and price predictions up to 2025, it isn't likely for EOS to reach the $1,000 mark any time soon. 
But because the platform has massive potential to win over a large market, it has an opportunity to find a big break over the next few years. That would be key to EOS's entry into the $100 and up price point. 
Leave a Reply