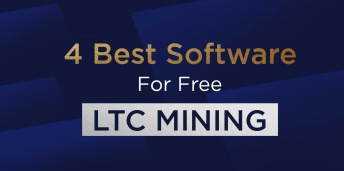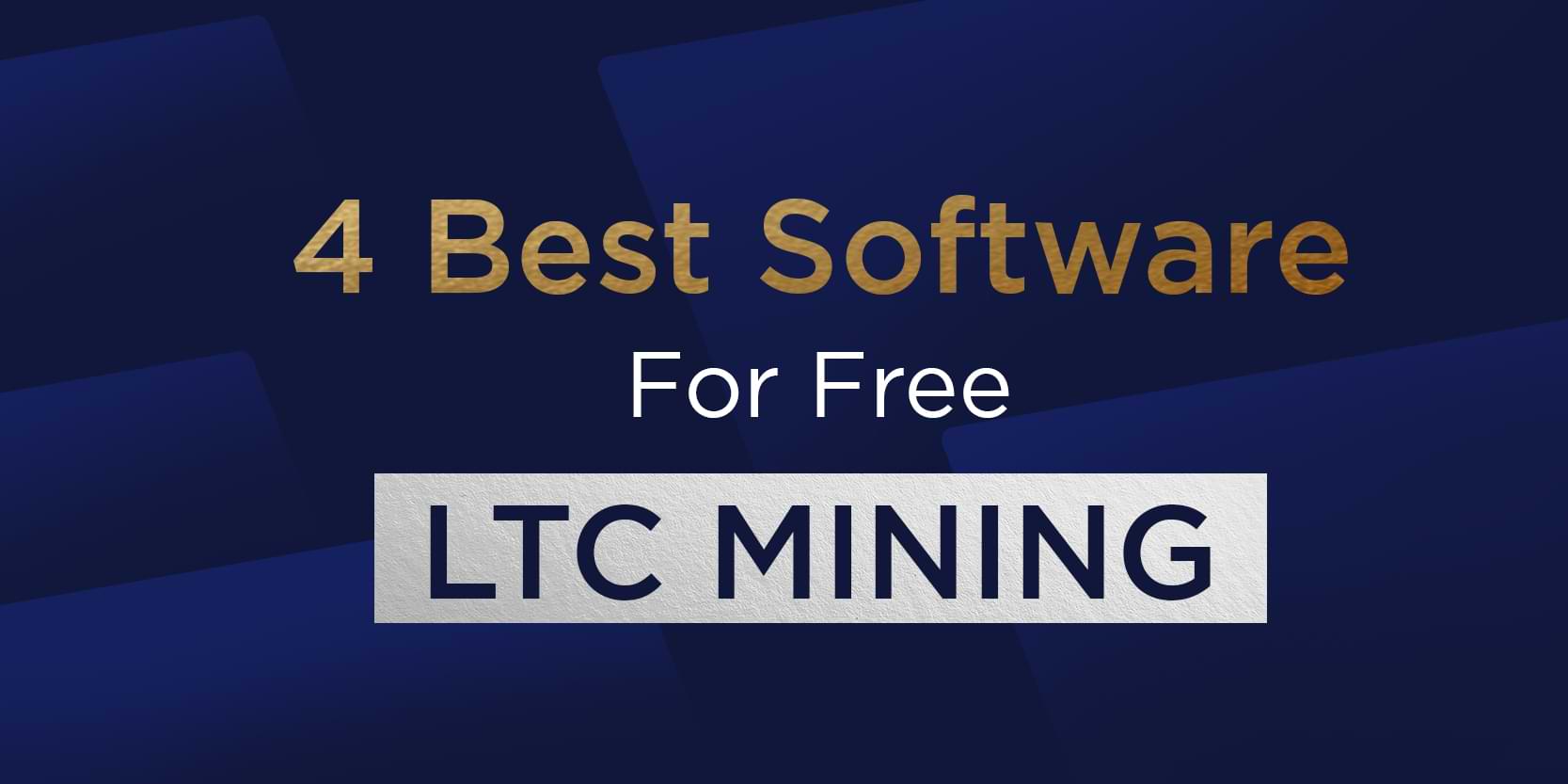 4 Best Software For Free LTC Mining
Reading Time: 8 minutes
Bitcoin's remarkable growth has ushered new cryptocurrencies to enter the market. Altcoin cryptocurrencies (other cryptocurrencies besides Bitcoin) aren't dissuaded to establish names for themselves despite Bitcoin being considered the standard for cryptocurrencies.
There are over 4,000 Bitcoin alternatives in the market today. Yet, only a few of these digital coins have managed to stay afloat in the tough competition. Among the altcoins that made it is Litecoin (LTC), Bitcoin's rival.
Bitcoin vs Litecoin: What's the Difference?  
As of this writing, Bitcoin's market cap is $726 billion, whilst Litecoin is $12.3 billion. Litecoin is often referred to as the silver to Bitcoin's gold. This is because Litecoin (LTC) has a faster transaction speed and its ability to produce 4 times more coins than Bitcoins.
Charlie Lee, a former Google Engineer, and MIT Graduate created Litecoin in 2011. Litecoin uses a newer form of a cryptographic algorithm- Scrypt cryptography compared to Bitcoin's long-established SHA-256 algorithm.
Litecoin is said to be one of the top 6 cryptocurrencies by market cap. It is one of the well-established and earliest Bitcoin (BTC) alternatives whose development is focused on speed, efficiency, and broader coin distribution. In late 2020, Litecoin managed to spike and pass the $400 mark for the first time. 
You have the basic idea and other hardware to dive into the bitcoin world. Now, you need free bitcoin mining software to start mining. There is a variety of free bitcoin mining software available in the market. You can choose on the basis of their functionalities, features, and your needs.
Litecoin, like many other cryptocurrencies, has a plethora of mining software. These differ in a variety of ways, beginning with mining speed and ending with security measures.
Free Litecoin Mining Software 
Anyone can mine Litecoin with the right equipment, some knowledge, and patience. There are a few free Litecoin mining software you can use for your crypto mining venture.
Get started with crypto mining using any of these best free Litecoin mining pool software:
1. CGMiner
CGMiner is one of the best free Litecoin mining software in the market. It is extremely versatile across different platforms and works with diverse hardware miners and GPU. This software uses CLI (command line interface), allowing the users to mine rigs remotely. Users can also control fan speeds and other settings using simple keyboard commands. CGMiner can also detect new blocks to scale up hashing power without interruptions. Users can easily debug algorithms through the program's native logging and debugging features.
Pros
Whilst CGMiner is Linux-based, it prides itself on its cross-platform compatibility as it runs on MAC and Windows.

The open-source nature of CGMiner makes it easy for miners to verify the software codes.

CGMiner works with a range of mining hardware such as GPUs, FPGAs, CPUs 
Cons
CGMiner's obscure command-line interface may be challenging for beginners.

Antivirus software can give users a hard time.

Users with Windows 10 desktops may have installation issues.
2. EasyMiner 
This user-friendly software has a straightforward graphical user interface (GUI) ideal for beginners. Users can configure mining pools, enable ASIC hardware, view wallets and configure network settings. Its dedicated "Moneymaker" mode allows mining LTC on its stratum pool. Miners can choose a pool using the "Solo" mode. They can also custom hash algorithms to match the coin they wish to mine. On the flip side, most antivirus automatically removes Easyminer as malicious hackers have been installing their versions of this program in other people's machines to mine coins. 
Pros
EasyMiner has an intuitive GUI perfect for all users, especially beginners.

It employs Network Hardware ID Layer protocol for an added layer of security.

You can skip on antivirus alerts by installing EasyMiner on Ubuntu Linux software via Wine.
Cons
Users can run antivirus issues when installing this software.
3. BFGMiner 
 BFGMiner is ideal for miners who are big on tinkering and customizing their mining process. This software is designed for FPGA and ASiIG mining offering dynamic clocking, monitoring and remote mining rig capacities. Much like CGMiner, BFGMiner also runs on a CLI that could be off-putting for beginners. Among its most impressive features are cross-platform compatibility and support for mining multiple cryptocurrencies simultaneously. 
Pros
BFGMiner is compatible with Linux, Mac, and Windows desktops.

This program allows users to mine, hedge, and redistribute the risk with different digital coins at the same time.

The customizable program works with ASIC and FPGA.
Cons
The lack of GUI may deter beginners.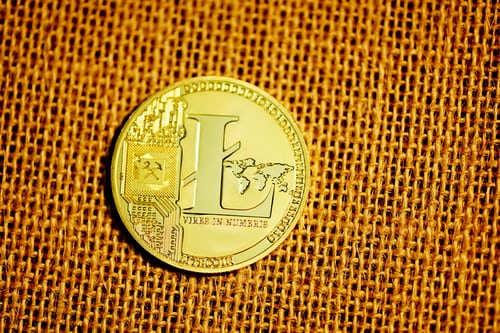 4. Awesome Miners  
Awesome Miner is a robust software that allows users to manage multiple mining rigs and miner's pools in one dashboard. With its powerful centralized mining management capacity, Awesome Miner supports over 50 mining engines including SgMiner, BMiner, XMRig AMD Miner, and more. This versatile program has an extensive dashboard where you can track the status such as clock speed, fan speed, and temperature of all ASIC and FPGA devices from one place. 
Pros
Awesome Miner is a powerhouse mining software that supports over 50 mining engines.

Track several mining rigs and miner's pool in one dashboard.

Access Awesome Miner from any device including tablet, smartphone, or desktop.
Cons
This program only runs on Windows and Linux

An Awesome Miner interface may not be best for beginners.
5. Multiminer  
This desktop application for LTC mining features a clean GUI and cross-platform capacity. Users with little to no technical skills can effortlessly use Multiminer. It walks you through the installation process and how to connect to a mining pool. Multiminer uses a basic mining engine to detect available mining hardware. Users can choose their mining strategy and the coins they'd like to mine.
Pros
The most user-friendly mining software featuring easy use GUI

Users can seamlessly access their mining rigs remotely

MultiMiner is heavily optimized for Windows OS.
Cons
Advanced users have fewer customization options

Linux and Mac OS users would need extra software for installation.
Final Thoughts 
You can take advantage of these LTC mining software recommendations whether you are a novice miner or an advanced user. CGMiner is among the favorites considering how it can run on any computer and any mining rig. MultiMiner is perfect for beginners who are still testing the waters as this software is very intuitive to use. Advanced miners will appreciate the customizable features of BFGMiner as they can mine multiple digital coins at the same time.
Leave a Reply