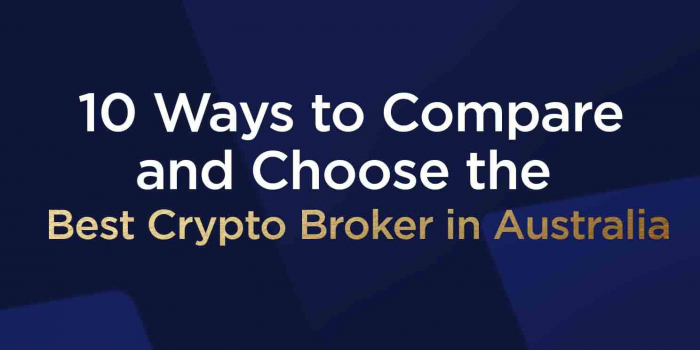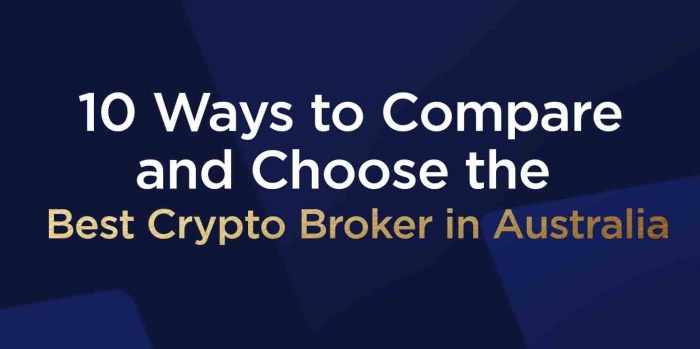 10 Ways to Compare and Choose the Best Crypto Broker in Australia
Reading Time: 11 minutes
A few years ago, it was unthinkable just a few years ago to consider money decentralisation.  But it happened. 
From BTC currency to thousands of altcoins made the crypto tent rich, and it attracts both good and bad people. Crypto is no exception in this case. Choosing the best crypto broker is extremely important with the increasing demand for cryptocurrencies. 
Stay tuned as The Top Coins unfold the ways you need to consider while selecting a crypto trading platform in Australia. But first, what is a crypto broker?
What is a Crypto Broker?
A broker is like a middleman who introduces and maintains a relationship between a buyer and seller. In lieu he, or she takes some commissions out of it. In the beginning, when there was no internet or digital media, humans used to work as brokers.
With the advancement of science and technology, the concept has changed. Now different apps and websites act as brokers. A crypto broker allows you to trade cryptocurrencies, and there are other brokers like stockbrokers, forex brokers, etc.
How to choose the best Crypto Broker in Australia?
To pick out the best crypto traders, whether you are in Australia or any other part of the world, is a matter of great decision. One must look at the following ten things when grading the crypto brokers.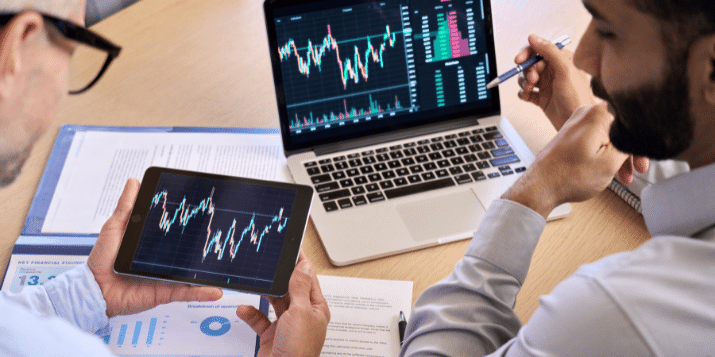 1. It must Come under the regulation of the government.
The broker you are selecting must follow the regulations of the government. Hackers and scammers are on the line, and they are always trying to snatch away. The regulatory board of Australia is AISC. 
See if your trading platform comes under the regulations of AISC. If not, then immediately leave that platform.
2. Capital of the platform
The number of new traders in cryptocurrency is increasing overwhelmingly. They often choose brokers who don't have their own money. So, the chances of drowning are prevalent. 
Just think that you, to make money, are giving your money to someone who has zero balance in their account, and it is nothing but putting your hands on fire.
3. Fees
The charges of the trading platforms vary. It is wise to go with a platform that takes low fees on the transaction. But that doesn't mean it should be a reliable one. You always inspect the reason behind taking low charges of a particular broker. Just compare and select. That is where half the job is done.
4. Technical support
Technical support is entirely different from customer service. It deals with the technicalities of cryptos, trading platforms, and many other things, as everything is digital. It takes a lot of time to be well versed with technical knowledge. 
Many brokers or trading platforms rely on their customer service to solve technical problems. But a technical advisor, especially in cryptocurrency, takes years of experience. Traders with prior knowledge will not face serious problems, but beginners may face complexity. It wastes a lot of time. So the endpoint is, you should always check the technical support of your broker. 
5. User-friendly interface
Trading, whether cryptocurrency or stocks, requires a knowledge of some terminologies. A complex interface always irritates the customer. If you are starting as a crypto trader in Australia, be sure to choose a reliable, trustworthy, yet easy-to-use platform. It will save a lot of time for you, and it also reduces the chances of losing your money by doing something wrong.
6. Sustainability with longevity
How can you trade without trusting your broker? Traders who believe in long-term capital gain should rely upon a reliable trader. Otherwise, in the long run, it may result in a scam.
7. Availability of coins
There are two types of trading platforms. One is advanced, and the others are just starting. The experienced trading platforms hold an option of thousands of coins, but the newbies don't. There are some pros and cons also. 
Advanced platforms may charge higher fees than the new platforms. Ultimately, it depends on which coin they want to invest in the investor or trader.
8. Customer support
This facility is one of those things that many people negotiate. Imagine you are caught up in a situation, and there is nobody to help you. You will pop off, man. That is why customer support needs to be taken as necessary. 
Best crypto trading platforms always give 24/7 hours help and support.
9. Demo trading
There are only a few of the best cryptocurrency brokers in Australia that provide demo trading features in the platform. It may not be necessary for the expert traders, but beginners will gain a bulk of profit. 
By trading in the demo features, they will learn the nuances of cryptocurrency trading.
10. Sign up process
The primary goal of cryptocurrency is decentralisation, which allows users to deal without the requirement of paper or paper. But not all brokers provide this facility to their consumers. It should be as easy as opening a Gmail account, and you simply add your bank details after that to run trading. 
There are other facts that brokers should add trustworthy coins, especially that the government allows.
What are the available Crypto Brokers in Australia?
A wide range of cryptocurrency brokers in Australia is available. All of them are different from others in terms of coins availability, transaction charges, account opening fees, etc. 
Here are the seven best trading platforms for cryptocurrency in Australia.
e-Toro : An average crypto broker in Australia
Capital.com : Best crypto trading app in Australia for CFD trading
Binance : The advanced trader's platform
Kraken : A reliable and secure cryptocurrency trading platform  in Australia
The above names are the best-rated cryptocurrency broker in Australia. We have created a chart for you for better understanding.
Broker's Name

                Identity

               Advantages

          Disadvantages

eToro

It is one of the best crypto brokers in Australia and has reasons to come first. It allows one to trade on the 15 popular coins, including Bitcoin, Ethereum currency, and Yearn Finance.

One can directly buy cryptocurrencies or buy CFDs.
It has separate analytics platforms for mobile and website.
It takes zero commissions with the lowest transaction charges.
Payments through credit cards, debit cards, and PayPal are accepted.
It also has a crypto wallet to hold digital assets.

Only 15 currencies can be traded.

Coinbase

Coinbase is a worldwide name, and it allows trading cryptocurrencies in Australia. It has about 4569 coins, including Bitcoin and other altcoins.

Multiple cryptocurrencies are available to trade.
It includes an integrated debit card and crypto wallet.
It offers the data from the order book.
UK and  USA governments regulate it.

A high amount of commissions.
Customer support is available through email only.

Capital.com

Capital.com is one of the best. 

Trading platforms for CFDs. 

Zero commissions.
It provides rare trading pairs like AUD, EUR and many more.
It gives trading ideas.
It has a mobile app that gives you price alerts.
It also provides 24/7 customer support in chat, calls and emails.

One cannot buy digital currencies directly.

The price alerts feature is not available on the website.

Binance

Binance is 'the best crypto broker Melbourne' in Australia. It is beneficial for advanced traders, and it allows you to trade on various digital currencies, including fiat currencies.

Numbers of cryptocurrencies.
Built-in wallet system.
It has derivatives options and leveraged tokens.
The fee structure is also competitive.

The pricing structure is very complex.
Any governmental body does not regulate it.

Kraken

The company is proud of its security features and user interface in Australia. This platform has a cold wallet feature that keeps 95 % of the customer funds. They are totally disconnected from the global internet.

Highly secure platform.
It is regulated in the UK.
One can trade 56 different cryptocurrencies, including EUR and USD.
It has crypto-future options.

Spot cryptocurrency trading is too expensive.

IG

IG is the oldest CFDs trading platform in Australia. It started in 1974 and shows reliability. It is also the first to add cryptocurrencies in Australia, and now it has all the major Cryptos and altcoins.

One can trade with 2:1 leverage on seven popular cryptos.
It includes automated trading.
AISC regulates it.
It also provides 24/5 hours of support.

Only seven CFDs can be traded.
The spread value is higher than the base value.

AvaTrade

This company is known for their ultra low-cost trading. Ava is mainly involved in CFDs trading, but other trading features are also available.

Zero commissions on trading.
Regulated by AISC.
24/5 customer support system.
It has platforms for MetaTrader 4 and 5.

Only selected CFDs can be traded.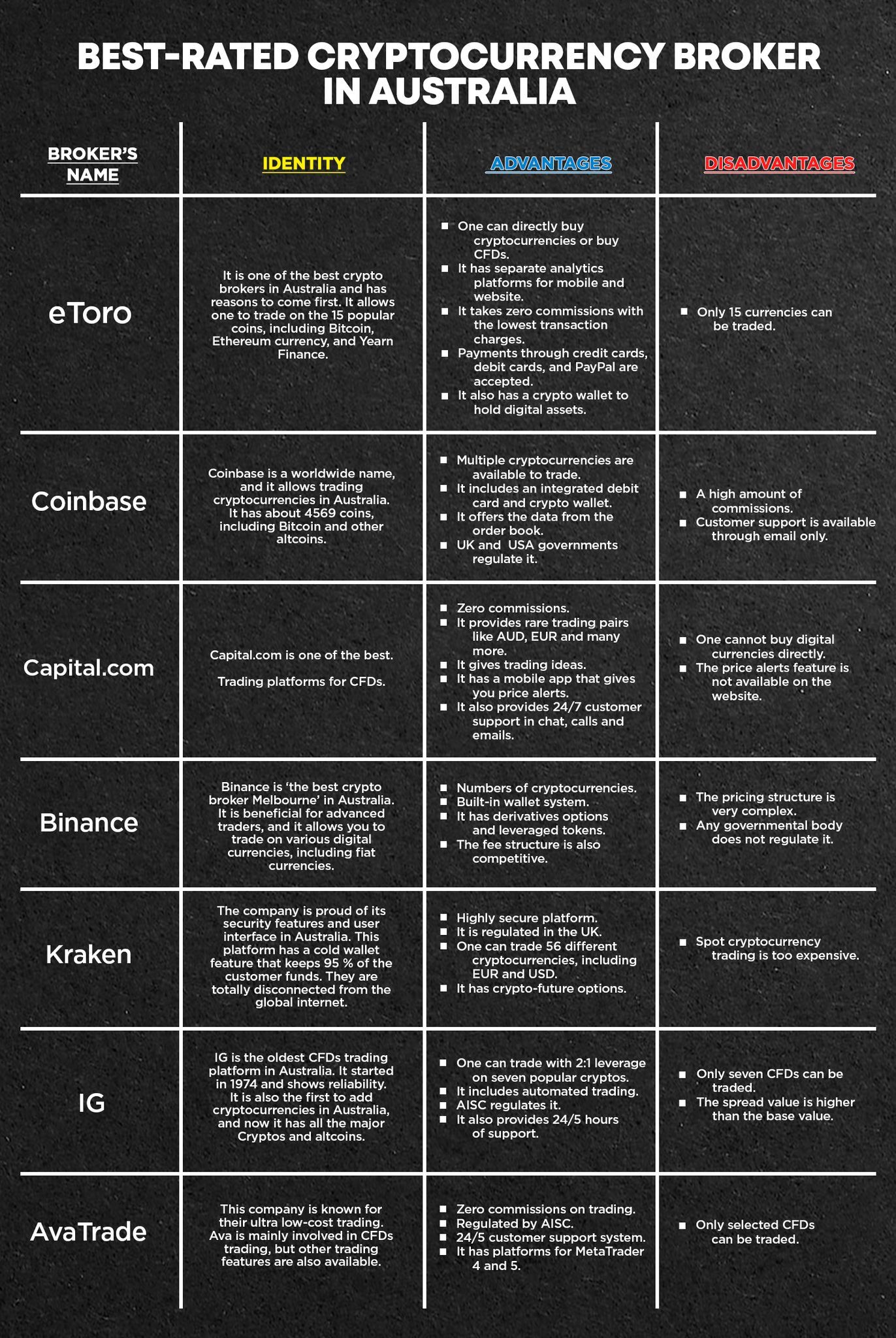 Final thought
I hope that you can easily select the best broker to trade with. Yes, it is tough at some level to choose one when you have a dozen options. Each of the platforms mentioned above is designed for different users. Whatever makes you feel comfortable, you go with that. 
It is also recommended that before doing anything, do proper research, then proceed. It is always best to go with the platform which your local government regulates. If anything breaks down, you may get relief from the government.
Leave a Reply