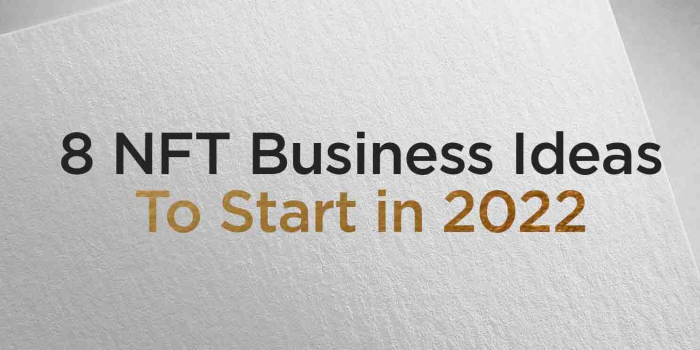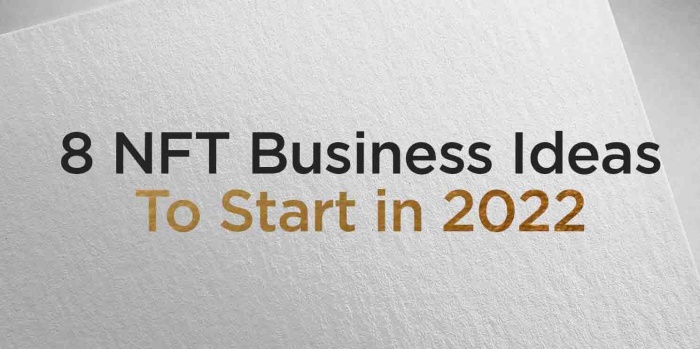 8 NFT Business Ideas To Start in 2022
Reading Time: 9 minutes
The cryptocurrency market has lately received a lot of attention and has a lot of good implications in a variety of industries, including new companies on various platforms, the arts, gaming, and music, and so on. In the ever-expanding crypto market, Non-Fungible Tokens (NFTs) have their own speed.
NFT services are opening new doors for investment for investors. Digital artists may earn a lot of money by selling their artwork as digital assets. NFT digital art by Grimes, for example, went for $6 million. Some tangible works of art are given a fresh lease on life in the digital realm. Banksy's "Morons" piece was entirely digitized, transmitted to NFT, then burnt to validate the digital asset's worth.
Current Market Situation of NFT Industry
The NFT sector has seen exponential development this year. It has monthly sales of digital art   objects hovering around $2 billion. The rise of the NFT market has piqued the interest of traditional auction houses such as Sotheby's and Christie's, who have also opened their own NFT markets to get a piece of the action.
8 NFT Business Ideas To Start in 2022
NFT, Non-Fungible Token   services benefit not only the artists but also any person who wants to invest or do business with NFT. Various NFT shops, businesses, and applications arose in response to the increasing demand. In less than a year, Rarible, a decentralized marketplace   and NFT art gallery attained a token price of $45,48. 
Here are the 8 NFT business ideas that you can start in 2022: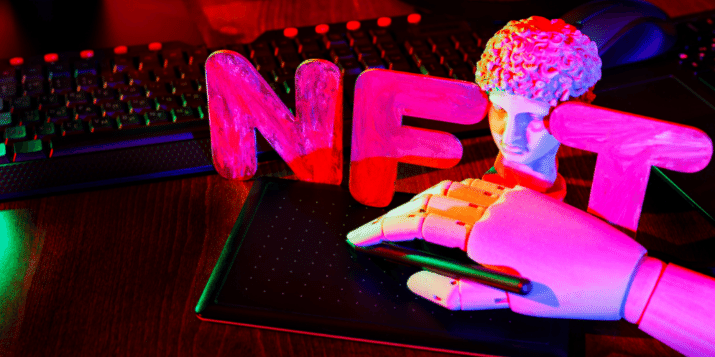 Start an NFT Marketplace
NFT auctions can give you a source  of great profit in NFT services. These marketplaces are used for non-fungible token activities. All of the major NFT markets use the standard auction method. Traditional markets have also influenced their income model. Each sale made through the NFT store is subject to a set of fees.
Brand storefronts and an easy-to-use search tool should be included on your platform, just like any other marketplace. Furthermore, it is critical to provide complete moderation of digital assets posted to platforms and to create a clear and unambiguous interface for sellers. With the  rapid growth of NFT art  one of the most potential business ideas for the near future is to create your own NFT marketplace.
Become an NFT Artist
This can be one of the most evident NFT business ideas. You can take a chance and produce your own NFT art if you are a designer or have a creative background. We must advise you that there is fierce competition and that not all items are worth thousands of dollars.
Regrettably, there is no one source of truth for creating NFT material. Our major piece of advice is to be as inventive as possible, to assemble an audience, and to produce stuff that people enjoy. Of course, you may go to well-known artists for inspiration, such as Blake Kathryn , FEWOCiOUS , Giant Swan , and others. But imitating others' styles is a dead end. Create your own style of art and make it significant.
Become an NFT Broker
With NFT services, you can create more than simply a platform. Alternate worlds are something you can make. Virtual worlds are now flourishing. People construct their own worlds in order to engage with other people's worlds. What's more exciting is the idea that building virtual worlds may be a lucrative company in the real world.
NFT investing should be thought of as a long-term investment . Antique merchants buy assets in the hope that their value will increase over time. The same is true for non-fungible assets. When it comes to in-demand properties, an experienced broker knows when to buy them, how to present them in the best light, and when to sell them.
Start an NFT Online Course
Despite the fact that NFT services have a lot of interest, the entry barrier is rather high. As a result, if you know how to use NFT you may construct an online course to teach others.
Online lessons might also be a part of your entire strategy. If you exhibit your skill, people will flock to you. You can launch a YouTube channel, offer training sessions, and become an influencer in this industry once you've built a following around your own brand.
Create NFTs for the Metaverse
In the larger scheme of things, the metaverse is a new system of virtual worlds that are linked by blockchain. There are several opportunities for both artists and consumers in this virtual environment.
Users may develop their own virtual assets and monetize them in metaverses like Somnium Space and Cryptovoxels . A creator can show his or her aesthetic ability in everything from virtual apparel to games or events. You may sell and exchange any virtual assets you make as a metaverse asset creator.
We are aware that the NFT community has a large number of creators. So, if you want to cultivate a new creative ability and even convert it into a company, now is the time to get started.
Open Your Own NFT Restaurant
Do you genuinely love eating? Then opening an NFT restaurant might be a great idea for you. No one has done it yet, but that doesn't rule out the possibility of an NFT restaurant in the works.
We'll utilize Gary Vaynerchuk as an example to give you a better sense of how to do such work. Gary will establish the first NFT restaurant in New York City in the fall of 2022.
Guests will need to acquire a membership, which will be sold as NFTs, in order to dine at the restaurant. Gary intends to provide three distinct membership tiers, each represented by a non-fungible token. This may appear far-fetched at this point, but it's merely the beginning.
Make an NFT App
It should be unsurprising that establishing a decentralized app, also known as a dapp , is a feasible commercial opportunity, given the millions of programs that currently pervade our lives on a daily basis. The backend code is the key distinction between an app and a dapp.
There aren't nearly as many dapps as there are apps right now, but that's a healthy indicator for future growth. Anything linked to gaming, social networking, collecting, and, of course, NFT markets are popular right now, are some possible areas of dapps you might want to try building.
White Label NFT Service
White-labeling is the practice of eliminating manufacturing companies' brand identities and replacing them with store logos and brand names. This is a common practice among small businesses that resell different kinds of products. A similar strategy might be used for NFT services and solutions. For NFTs, you don't need to set up a platform from scratch. As it includes default plug-and-play white-label capabilities. If you can build a worldwide Shopify-like NFT platform that caters to both merchants and purchasers, you'll be able to control this market for a long time.
Final Thoughts
We agree that some of these business concepts may appear a little strange, and that's because they are. But keep in mind that this is how everything begins. Take a look at the first computer or dial-up internet.
Non-fungible tokens have existed for a long time, and the trend isn't going away anytime soon. NFT services offer a wide range of uses, and their acceptability will only grow with time. A rising number of digital artists and superstars seeking to maintain an online presence and increase their net worth are on the horizon.
Leave a Reply